GEC Living Housekeeping
Curious about GEC Living housekeeping processes? Well, you are in the right place. We've covered everything from our cleaning products to the staff checklist!
At GEC, our number one priority is to provide a healthy and safe space for our residents. We have an in-house housekeeping team with over 15 years of professional experience. The housekeeping team works closely with our Operations and Property Management team to ensure all the protocols are followed with up-to-date industry standards.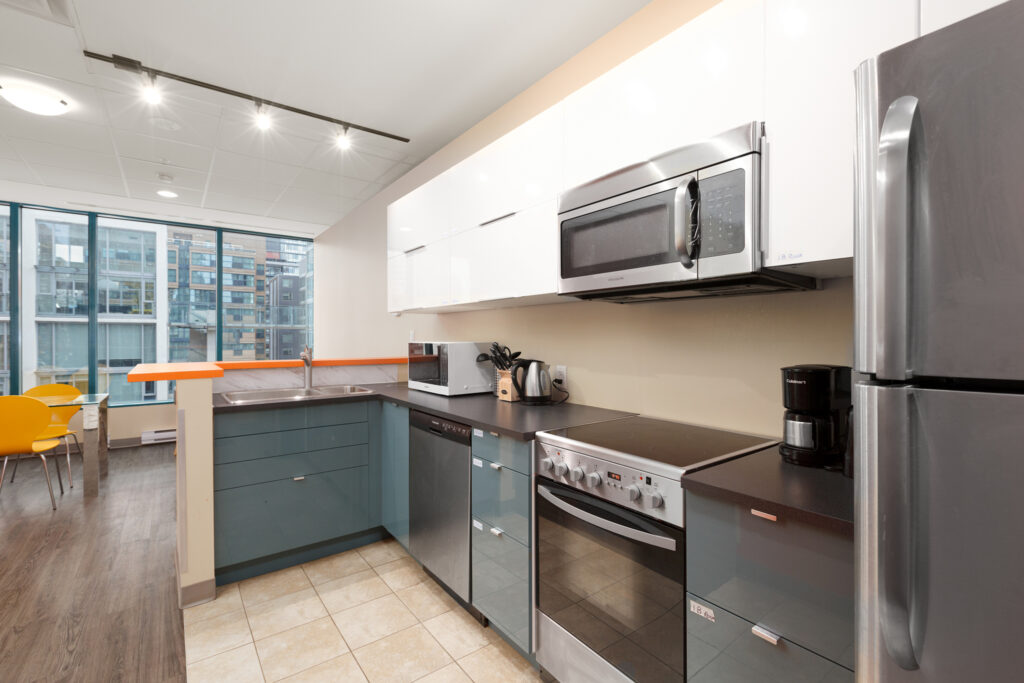 Get to know our housekeeping staff
GEC Living's housekeeping staff is professionally trained to keep our residences neat and tidy. Our housekeeping staff performs move-in, move-out, routine, and common area cleaning. With the help from our staff, you can use the time for all the other important things in your life like studying for exams and exploring Vancouver!
Here's how we prepare your unit before move-in!
Once you confirm your booking, your unit will be added to our housekeeping's cleaning schedule!
Shared Apartments: If all the rooms are vacant in the unit, the housekeeping staff perform deep cleaning in your room, kitchen, bathroom, and living room. We will replace your sheets and towels with clean ones, too.
However, if your future roommates are still in the unit and only your room is vacant, staff will deep clean your room, and of course, sheets and towels will be replaced with clean ones! They will come into the apartment for a routine cleaning at the scheduled time later.
Private Apartments: Since the apartment is vacant, we will deep clean everywhere: your room, kitchen, bathroom, and living room!
We keep no secrets
Our staff operates based on the carefully prepared housekeeping checklist to perform their duties.
Checking in to a private suite? Here's how we'll clean your apartment:
Remove old bedding and place clean ones: bed sheets, duvet, pillow covers, pillow, blanket, towels, etc.
Vacuum and mop floors, including under your bed!
Deep clean washroom (it's very deep, please do not drown!)
Check for the number of plates, cups, utensils, pots, etc. and make sure they are clean for your new recipes
Clean the kitchen: microwave, fridge, freezer, stove, and oven
Dust living room and wipe down the couch
Contact maintenance for broken items. We can't let you study with a broken light bulb!
Watch GEC Living Housekeeping In Action
Routine cleaning to save you time
Ever think about how much time you spend cleaning? Our housekeeping staff is happy to help. They will clean each unit bi-weekly to save you time!
During the routine cleaning, all common areas (living room, bathroom, kitchen) except private rooms are cleaned. Bi-weekly cleaning may take 30 to 60 mins depending on the size of the unit.
While we love to help, you are expected to clean your own room, wash your sheets in the in-unit laundry, and take out your garbage regularly. If housekeeping notices garbage build-up in the unit, they will leave a note to remind you.
Peace of mind in common areas
Common areas in the building including, the gym, lobby area, elevators, and garbage room, are cleaned on a daily basis. The housekeeping team disinfects high-touch areas like buttons in the elevator. They also check these areas regularly and will perform additional cleaning as necessary. Other areas like the staircase and parking lot are cleaned at least once a week. We make sure your environment outside your apartment is just as clean!
GEC Living Housekeeping: How do we create the cleaning schedule?
The housekeeping team will create a bi-weekly housekeeping schedule based on the tenant list provided by our Leasing and Operations teams. They will notify you about the cleaning dates of your unit, so you know when to expect a visit.
A few members of the housekeeping team often clean a single unit together to quickly leave your unit. They perform their duties in a different section of the apartment; don't worry, they will work efficiently and won't bother you much!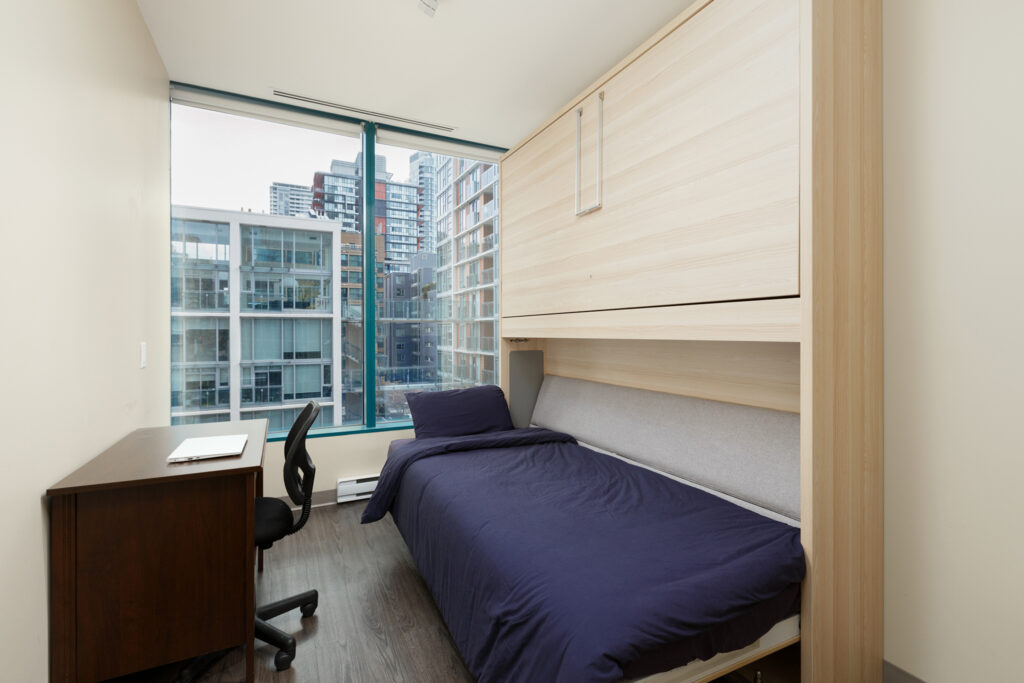 Need extra cleaning?
Had a crazy party at your unit last night? If you wish to get your unit cleaned in addition to our free bi-weekly service, you can make a request at a rate of $305 CAD.
Not your typical cleaning products
At all GEC properties, commercial-grade cleaning supplies and equipment are used. We really mean it when we say we will get it cleaned!
Similarly, beddings are washed by our trusted commercial laundry service that meets hotel standards. (Even our hotel gets their beddings washed there!) Our housekeeping staff will receive the clean sheets and duvets and iron them for you. As we mentioned earlier, all sheets are replaced with clean ones for new residents.
General Housekeeping Practices
| | | |
| --- | --- | --- |
| Preparation | Cleaning | Exit |
| Creating cleaning schedule | Ventilate the unit | Turn off all lights |
| Notifying tenant | Change dirty sheets and towels | Close windows |
| Check cleaning supplies | Clean all hard surfaces | Review checklist |
| Check equipment | Remove dust and dirt | Check cleaning supplies |
| Keep hands sanitized | Vacuum and mop floors | Sanitize hands before entering the next unit |
| | Empty garbage | |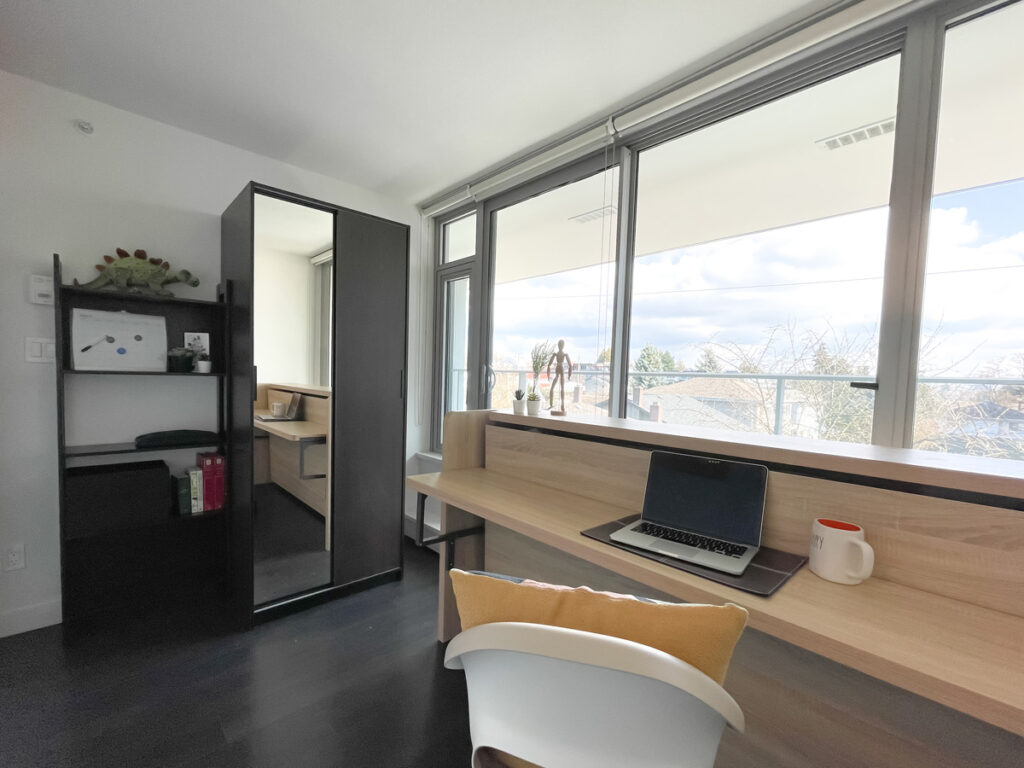 GEC Living Housekeeping Final Notes
At GEC, we put great importance on keeping our residences clean and residents happy, and we are transparent about our processes.