Douglas College
Douglas College was founded in 1970, and to this day, it is the largest degree-granting college in BC. Douglas is known for its wide range of bachelor's degrees and post-degree programs. Each year, 25,000 students attend Douglas College, gaining academic education alongside skills that will prepare them for their careers.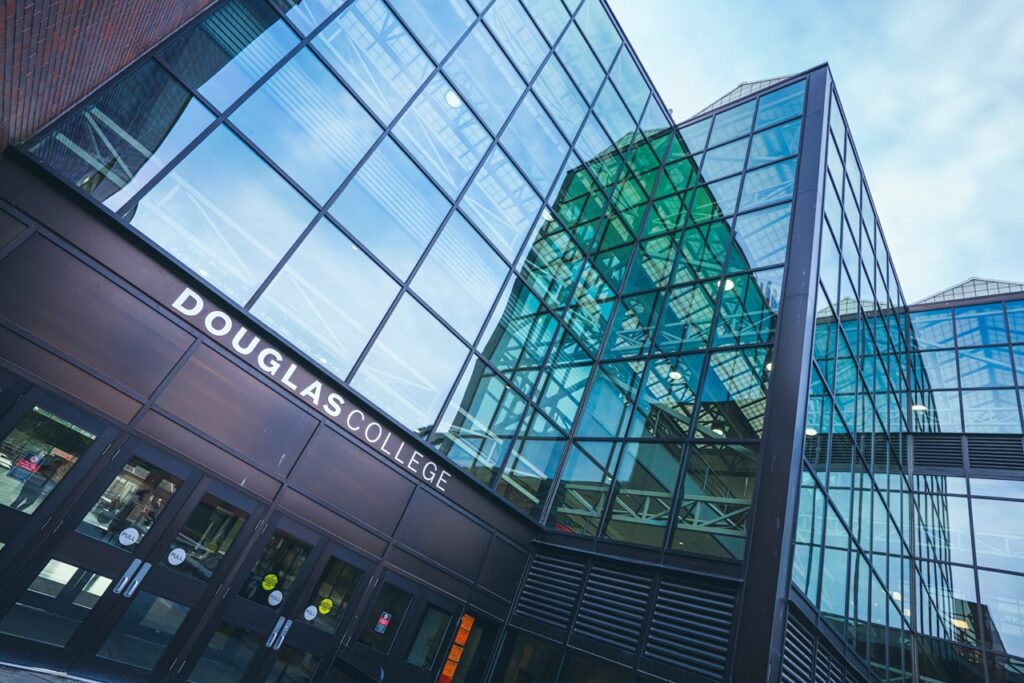 Index
Pros and Cons of Studying at Douglas College
| | |
| --- | --- |
| PROS of Studying at Douglas College | CONS of Studying at Douglas College |
| International Student Services | Limited Transfer Opportunities |
| Career Help for Students | No Campus Housing |
| Transferable (Accredited) Courses | No Meal Plans |
| Range of Athletic Teams | |
Pros and cons of studying at Douglas College
Where's Douglas College located?
Douglas College has two major campuses in Vancouver, one in New Westminster and one in the Coquitlam area. They also have smaller training centers located in Surrey, Burnaby, and Maple Ridge. Douglas is very accessible via transit as both main campuses are right on the Skytrain lines.
If you will be studying at the New Westminster Campus, you will get fit quickly. Once you leave the New Westminster Skytrain Station, you will find yourself hiking up a steep hill. The 5-minute hike gets the best of us, so do not feel embarrassed. The good news is, your transit is covered by the U-Pass at Douglas College, which means you don't have to pay extra for your commute! Both main campuses are relatively close and offer natural scenery at its finest.
Douglas College New Westminster – 700 Royal Avenue and Anvil Office Tower, 11 8th Street, both within a short walk of the New Westminster SkyTrain station
Douglas College Coquitlam – 1250 Pinetree Way, one kilometer north of Coquitlam Centre and a three-minute walk from Lafarge Lake-Douglas Skytrain station
How much is Douglas College?
To send an application to Douglas College, you need to pay $100 non-refundable application fee. Douglas College suggests contacting them directly to check about seat availability prior to paying the application fee or sending an application. The following information is valid as of Oct 20, 2021 (Check to see updated tuition list).
International students pay $612 CAD per credit at Douglas. Note that most academic courses are 3 credits, equaling to $1,836 CAD per course.
You can also see the tuition information for Domestic (Canadian Citizens or PR holders) students here. Certain tuition fees may also change depending on the program; for detailed information, check out Douglas College's official website.
Note that, certain programs at Douglas College are not open to international students. Check to see if the program you are interested in accepts international applicants.
| | | | |
| --- | --- | --- | --- |
| Fee | Rate per credit | One Semester (12 Credits) | 12 Months (30 credits) |
| International Tuition | $612 | $7,344 | $18,360 |
Douglas College tuition information
Students choose to take Douglas College courses because of the small class size ratio and low tuition fees compared to other colleges.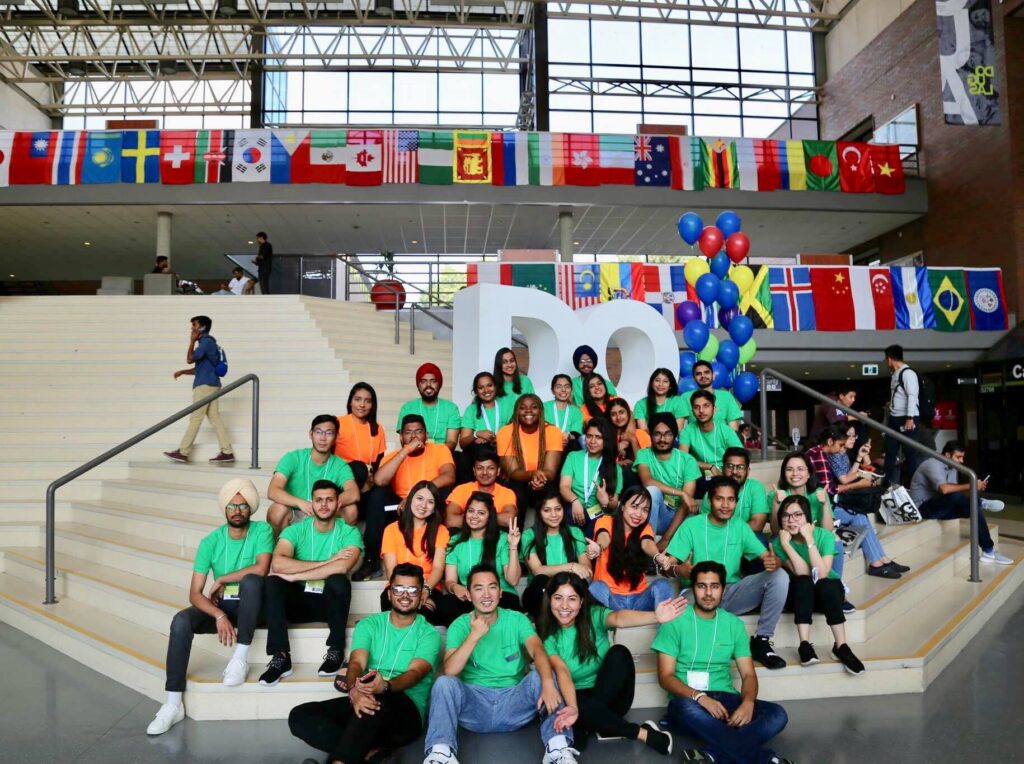 International Students at Douglas
Each year, over 4,000 international students take for-credit courses at Douglas. With its large international population, the International Office at Douglas is active and offers advising services on personal, academic, or immigration-related issues as well as facilitating the following initiatives:
International Café: Douglas' International Café is open to all students and held regularly at Douglas College. There are several topics discussed ranging from experiencing culture shock to daily life in Canada. Participating in this community gives you a chance to meet new people and share your thoughts with a supportive group. You can register to attend here.
Mentorship Program: Senior international students pair with new international students at Douglas to welcome them into Douglas' community and support them in their college journey.
Ongoing Workshops: Douglas College offers several online and in-person workshops, covering significant topics for international students like: How to get a work permit after graduation, how to extend your study permit, and more.
Most Popular Douglas College Programs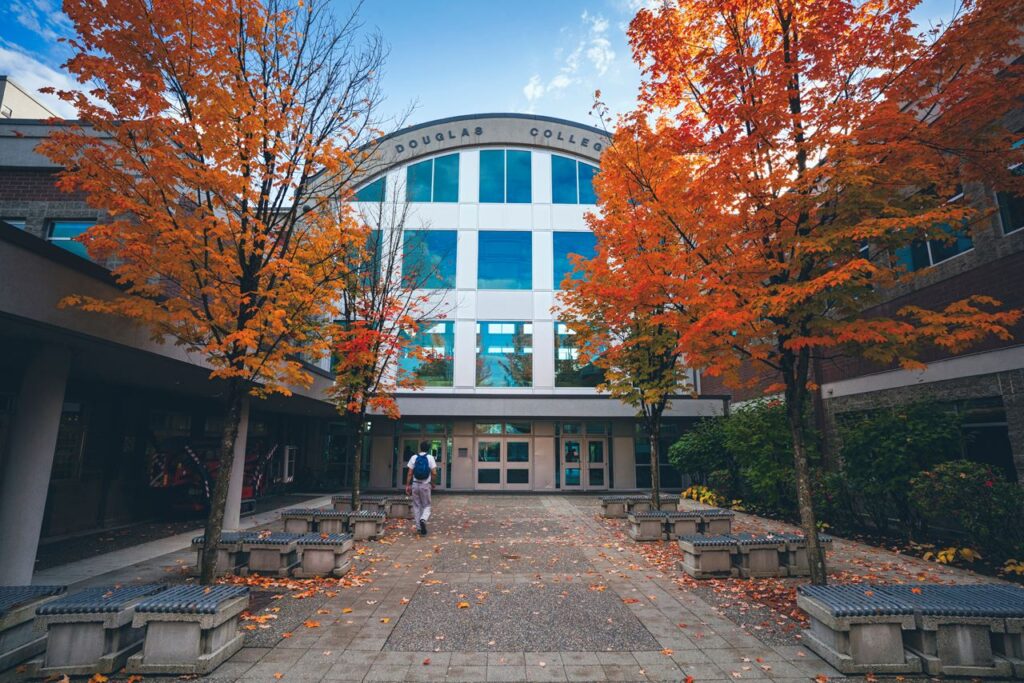 Douglas College University Transfer Programs
You can take UT (university-transferable) courses at Douglas. A course can be referred to as "UT" only if it transfers to one of the following schools: UBC, UBC-Okanagan, SFU, University of Victoria, or University of Northern British Columbia. You can take your first-year courses (for a cheaper price) at Douglas and save money; later, you can transfer these courses to a research university.
While Douglas does not have direct partnerships with universities, you can plan your courses carefully to get accepted for the mentioned universities. As Douglas only has one transfer program, we suggest checking with your advisor and reviewing the BC Transfer Guide if you are interested in other universities.
SFU – Douglas Degree Program
The Simon Fraser University (SFU) – Douglas College Degree Program is unique as it allows students to study in both institutions freely. Students can complete the requirements of a Bachelor of Arts (BA) Degree or Bachelor of Science (BSc) degree from Simon Fraser University. This program is not a transfer; rather, it is a much more flexible partnership for both universities. You can receive support from both institutions as you proceed to complete your degree.
Extracurricular Activities at Douglas College
Joining the clubs and collectives are a great way to make friends and get involved in the Douglas College community. There are several options to choose from when looking to join a club: clubs to celebrate certain cultures, board games club, debates club, religious ministry as well as academic clubs. You can check out the full list of extracurricular clubs at Douglas College.
Currently the following clubs operate at Douglas College, baseball (m/w), basketball (m/w), soccer (m/w), volleyball (m/w), and curling (w). See details here.
Douglas College Student Housing
Douglas currently does not have any student housing complexes or homestay arrangements. However, Douglas' Website suggests GEC Living Residences for their students who are looking for off-campus housing options.
The following GEC locations are recommended for an easy commute to Douglas College New Westminster Campus,
All GEC housing options are fully furnished with utilities included (water and electricity). Our apartments come with a fully equipped kitchen, in-suite laundry (washer and drier), heating systems, and free unlimited Wi-Fi.
Student Accommodation at GEC is a perfect option for out-of-province and international students. You do not have to worry about spending extra money for furnishing a new place or wasting time traveling long hours via public transit. GEC's convenient location(s) ensures you stay right by your institution and near central locations.
Douglas College Main Campus Explained
Once you walk uphill from the Skytrain station, you will be greeted by Douglas College's large New Westminster Campus. Through the main gate, you take a few stairs to access the second-floor entrance.
Fishbowl
When you enter the main building, you see a large lobby area. Before you walk up the stairs, you should see the "fishbowl", which refers to Douglas' Study Hall with a circular shape, surrounded by pure glass on all sides. Closer to the finals, you will see free coffee flowing around the fishbowl as you get ready for finals.
Cafeteria
The cafeteria at Douglas is at the lower level, on the first floor. You can visit daily for a selection of delicious meals. The best part is though, Douglas has Tim Hortons right on campus. But let's be real, from the moment it opens to the moment it closes, there is a long line in front of Tims. Well, every rose has its thorn.
Library
Douglas library is a place where you can borrow books and use computers. If you have a research project, the Douglas library has an extensive collection of books, so you will not need to look anywhere else for your projects.
Fitness Centre and Gymnasium
You will find both the fitness centre and gymnasium on the first floor. The fitness centre is not so big but there is a lot of the same equipment so you will never have to wait for a treadmill. The gymnasium is for team practices, Douglas Athletic team games, as well as physical education classes.
Douglas Students' Union Building
The student union building is the best. You can hang out with your friends, play pool, use the kitchenette, and unwind in between classes. You can make a lot of new friends here as well.

Things to Consider Before Attending Douglas College
Limited Transfer Opportunities: Unlike other colleges in Vancouver, Douglas does not have several partnerships to transfer to other universities. While you can still transfer through keeping a track of your courses and consulting with your advisor, the transfer partnerships organize the courses you need and keep you on track with a guideline. This should not be a deal-breaker for most people, but it is something to note.
No Campus Housing: Douglas does not have campus housing for students. However, Douglas College recommends GEC Living Residences conveniently located near public transit stops for an easy commute.
No Meal Plans: Douglas College does not have any meal plans for students. The campus has a cafeteria along with retail dining options like The Deli Bar and Pizza & Pizza, Tim Hortons, Triple O's.
Douglas College Testimonials: What Douglas Students Say
"I am a new student in Douglas college and I am studying in Hospitality Service Management program. I want to share that college has many opportunities. In addition to 2 convenient locations, the college provides a wide range of services: consultations, events, sessions. The study is very interesting, sometimes difficult but if you make the effort, everything will work out! I'm looking forward next semester because all courses will be in person."

– Anastasia, Resident at GEC Viva
Why Choose Douglas College
Above, we mentioned the cons of studying at Douglas College. All of them are minor points that have solutions one way or the other so, there aren't many deal breakers for studying at Douglas College. As Douglas College courses are accredited, students can transfer their credits to different institutions.
Courses at Douglas College are popular amongst students because of the out-of-class opportunities for hands-on professional experiences. Douglas also offers specialized career help for their students, making sure students have a clear path after college. Alongside career services, Douglas has a well-incorporated International Office; they have a ton of student engagement events and socializing opportunities throughout the year.
Finally, Douglas College's Athletic teams have a good reputation across BC and compete with some of the well-known U-Sports teams. It is worth looking into as they also provide athletic scholarships for students interested in Douglas College.
GEC Student Residences Near Douglas College
GEC Pearson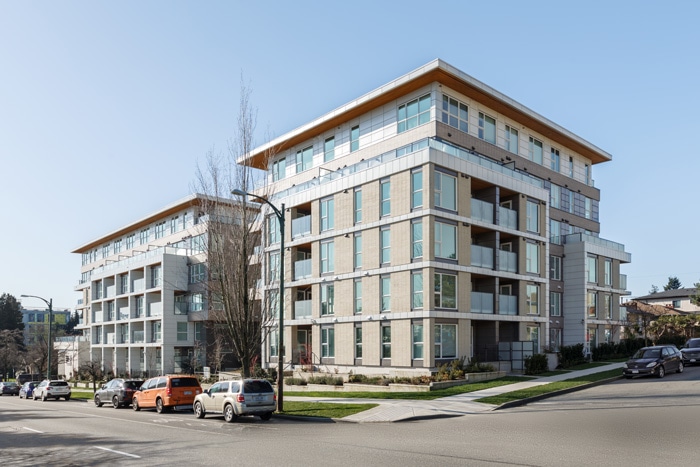 GEC Pearson is a student housing and residence located in Vancouver's most central and convenient neighbourhood, just minutes away from the best universities, shopping centres, and attractions. Discover Vancouver and Richmond's hidden gems, just 5 minutes from the Canada Line.
GEC Marine Gateway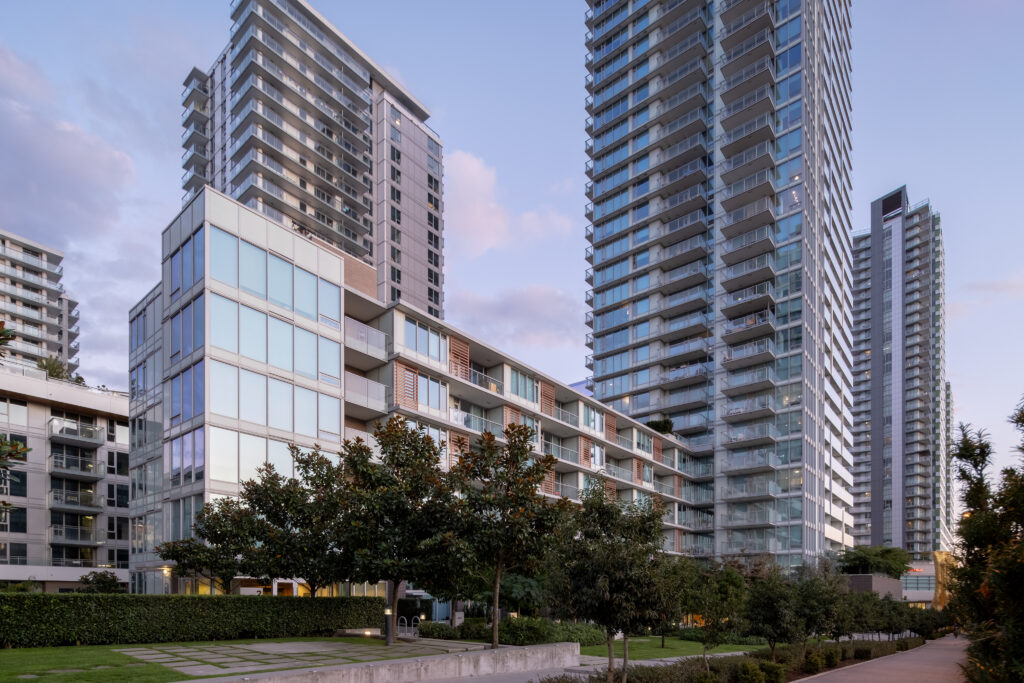 GEC Marine Gateway features modern interior designs and energy-efficient amenities in the city's most convenient neighbourhood. Steps from the Canada Line Skytrain, experience the best of Vancouver and Richmond in our premium rental apartments.
Read About Other Schools in Vancouver