Checklist to Vancouver As a Student
We understand how anxious it would be to start off a new journey in a totally new country. But don't worry, we've got your back! Canada is a diverse country with an inclusive culture surrounded by amazing natural habitats. In 2021, Canada welcomed over 450,000 new international students, and the numbers are expected to rise this year! Read more for the checklist for Vancouver as a student.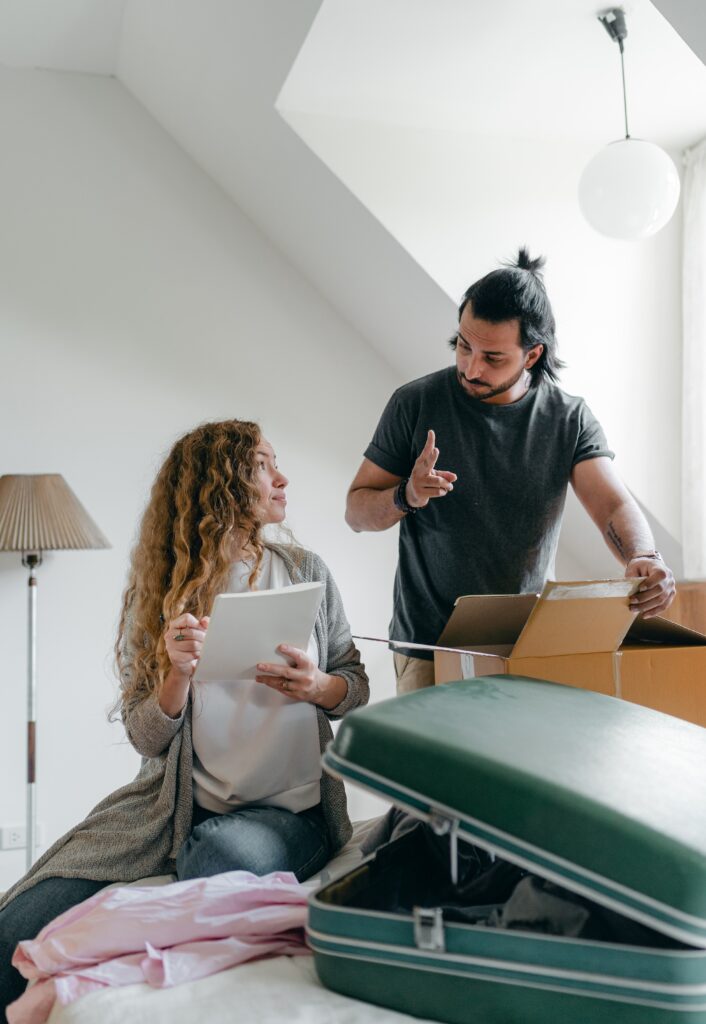 So, whether you are already enrolled in one of the academic programs in Canada or just starting to plan to study here, we have prepared a complete checklist for you to follow before your arrival. (Don't forget to download and print out the GEC Arrival checklist down below!)
Index
Travel Documents for international students:
1. Passport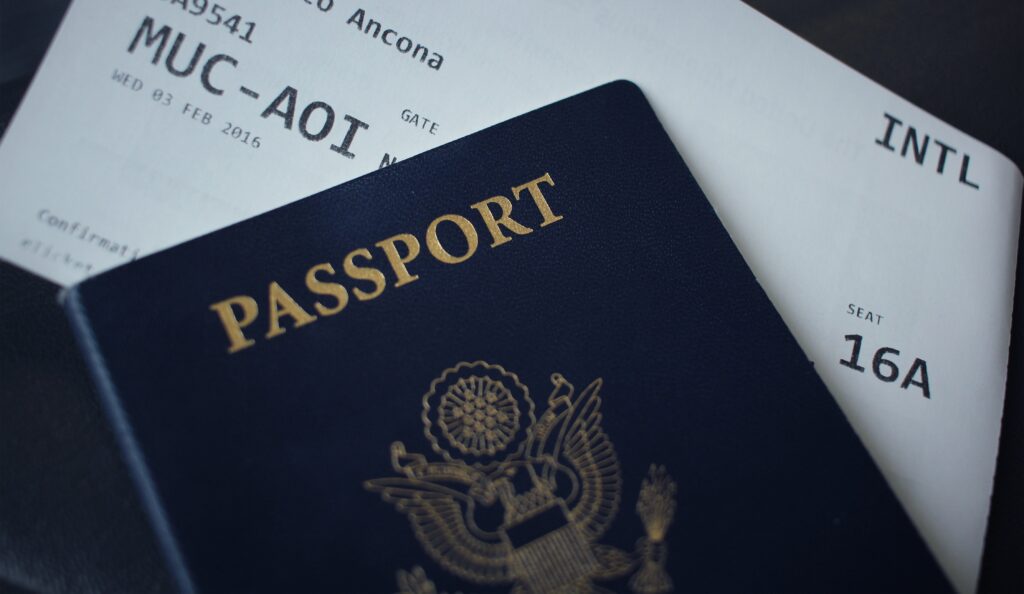 First and foremost, a valid passport is a key to entering different countries, and it is the most important item on checklist for Vancouver Canada. If you don't have a passport, you can apply in your home country, and its cost may vary depending on your nationality. If you already have your passport, make sure to check the EXPIRY DATE on your passport before booking the flight tickets. Most countries require a passport to be valid for at least six months before entering a country. If your passport expires sooner than that we advise you to renew your passport as soon as possible!
2. ArriveCAN (mobile app/ web version)
You will need to download an app called 'ArriveCAN' on App Store or Google Play and submit your information within 72 hours before you arrive in Canada.
Required document:
Important note: If you are fully vaccinated, you will not be required to provide a Pre-entry COVID test result and quarantine plan. (Check whether you qualify as a fully vaccinated traveler)
3. A Letter of Acceptance
A Letter of acceptance is also named an offer letter or an acceptance letter. You will receive a letter of acceptance when you have been accepted into one of the designated Canadian post-secondary institutions, and you will need it to apply for your study permit.
Please note that some letters of acceptance may be conditional, which means you must fulfill a certain requirement before starting your main program of study. A common prerequisite requirement is to complete the English as a second language (ESL) or French as a second language (FSL) program.
4. Study Permit
You will need to a valid study permit if your program is longer than six months. So, it's crucial to apply for it before entering Canada!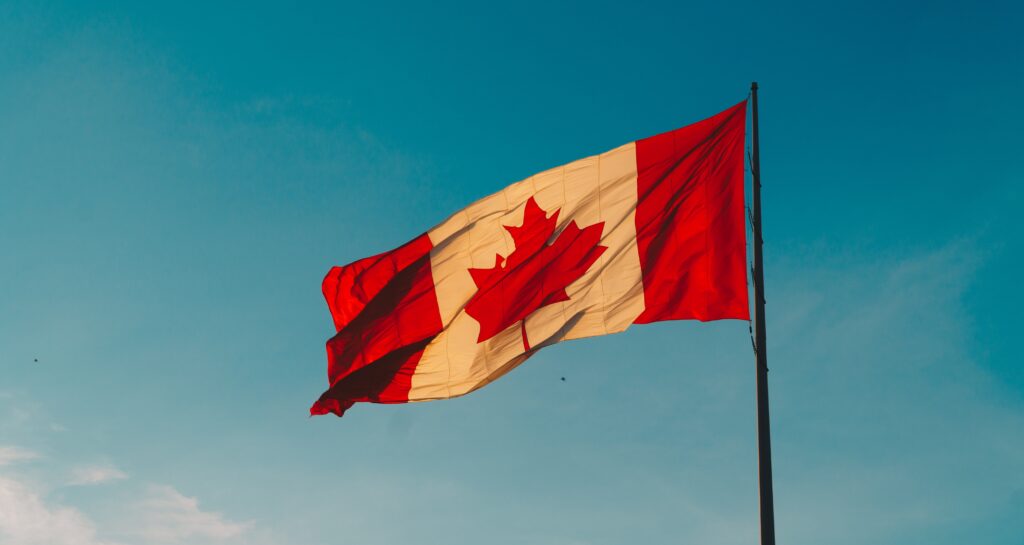 Required Documents:
Optional documents:
Important note: The cost of applying for the study permit will be $150 CAD.
5. Student Visa (Temporary Resident Visa) or Electronic Travel Authorization
A Temporary Resident Visa (TRV):
It is an entry visa for your arrival in Canada. Only citizens from specific counties would need a TRV. Wondering if you need a TRV? Check out the IRCC website: Find out if you need a visa to travel to Canada. When you are applying for TRV, we recommend you include these supporting documents in your application:
Important note: The fee for a Temporary Resident Visa for visitors is $100CAD
An Electronic Travel Authorization (eTA):
It allows foreign nationals from visa-exempt countries to enter Canada. You can also find out if you need an eTA on the IRCC website: Find out if you need a visa to travel to Canada. You can apply for eTA online with a simple process, and your eTA will then electronically link to your passport and be valid for up to 5 years.
Important note: the application fee is $7 CAD
6. Student health insurance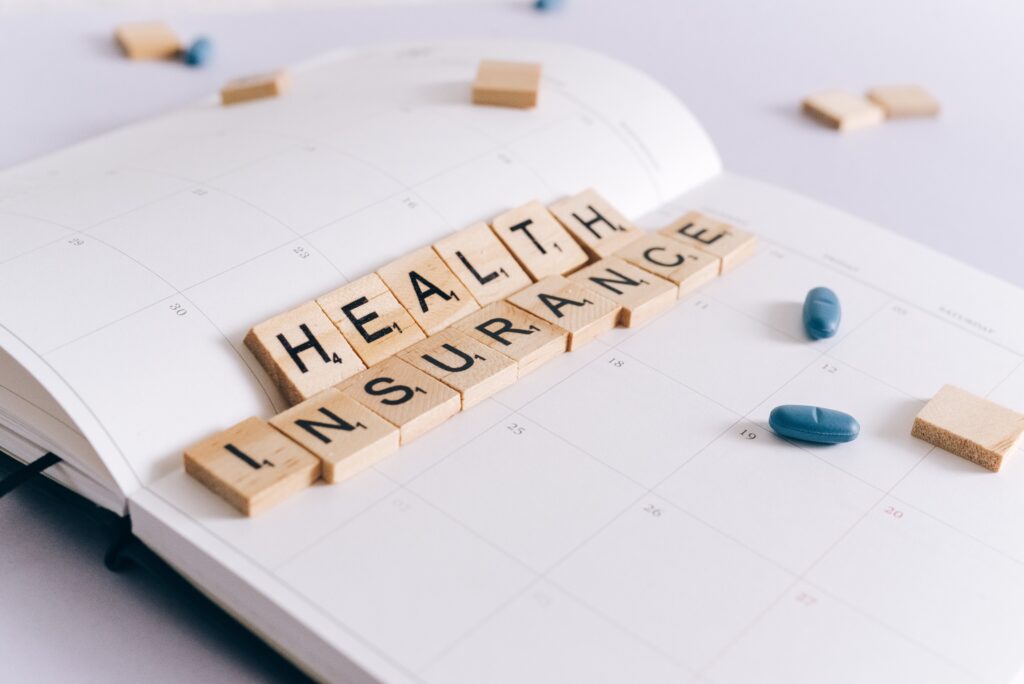 Another critical item on checklist for Vancouver Canada is you are required to have health insurance while you are studying in Canada. Since international students won't get covered by the government of Canada, you may need to purchase one from a private health care organization or provincial government. (If you are coming to British Columbia in Canada, we have a quick tutorial guide on how to apply for your MSP card in B.C.)
Checklist for Vancouver – Living and staying in Canada
7. Find Accommodation
You will need to look for a place to stay when you first arrive in Canada, and there are two options for you to choose from, on-campus student residences and off-campus housing.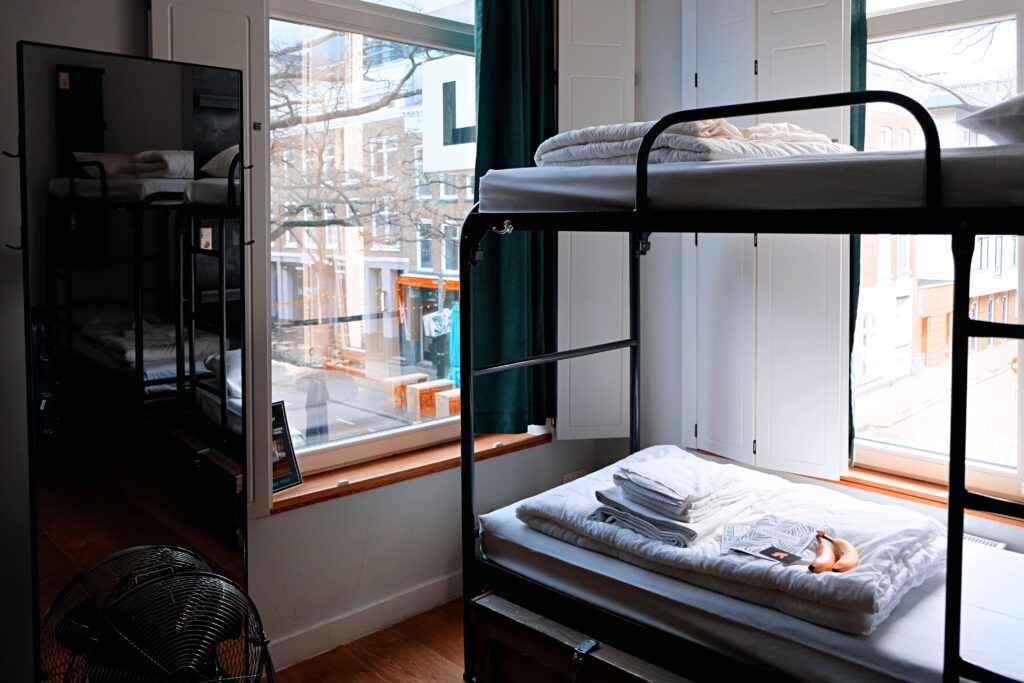 On-campus options
Some universities like UBC, SFU, and BCIT in Vancouver have their own student residences, and they only rent their apartments to their students. It's a good option for students who are in their first and second year, as those residences are located near campus and most of them include a paid meal plan. So, students can spend more exploring their campus and don't have to worry about their meals. However, on-campus housing can only accommodate a small percentage of those students. This makes it hard for students to find housing provided by their institutions.
Off-campus options
GEC student housing – GEC Living is the largest off-campus housing community in Vancouver. Currently, GEC has 4 locations operating, and one more location in development. It may be impossible for a newcomer to purchase all furniture and utilities. So, at GEC, all the units are fully furnished and move-in ready, with all-inclusive Wi-Fi and utilities for you. GEC also offers housekeeping and onsite/offsite management service to eliminate every student's concern. Unlike other market rentals, the minimum stay at GEC is only 5 weeks, and you can easily extend your stay with no hidden cost. It's all your call!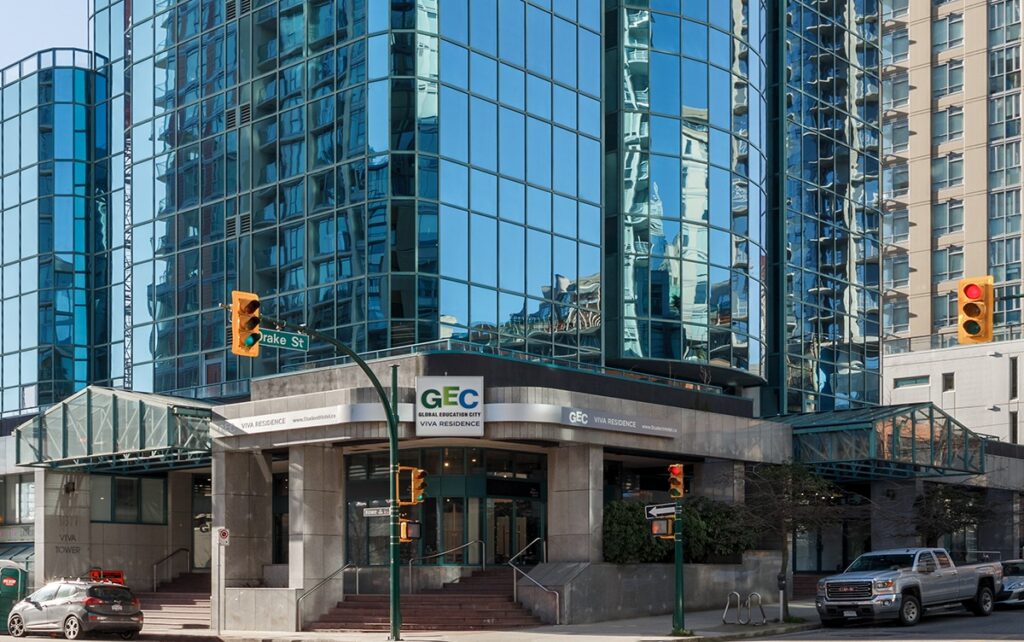 GEC location:
GEC Viva – A 17-floor tower in the heart of downtown, featuring panoramic views of the city and the North Shore Mountains. With dozens of schools, shopping centers, and transportation nearby, the possibilities are endless when everything is at your doorstep.
GEC Pearson – Located in a peaceful and quiet neighborhood, with the beautiful Langara Golf Course across the street. The brand-new buildings offer contemporary furnishing and modern amenities in bright and airy apartments.
GEC Marine Gateway – Located in the heart of Vancouver, the student residence features modern interior designs, energy-efficient amenities, and a beautifully landscaped courtyard. And just across the street is the Marine Drive SkyTrain Station and Marine Gateway Complex, offering you an incredibly convenient neighborhood.
GEC Burnaby Heights – This building is a multi-family development designed for students, families, and professionals. It features contemporary furnishings and modern amenities, with balconies overlooking the city and the North Shore Mountains.
If you are interested, we advise you to inquire here about apartment availability and rental price as soon as possible.
Apart from GEC Living, you can also rent a place via various market rental websites, including Craigslist, Kijiji, Zumper, Rentals.ca, and Facebook Marketplace. Here is another blog that may help you with some tips for renting a place in Vancouver.
8. A Mobile Phone Plan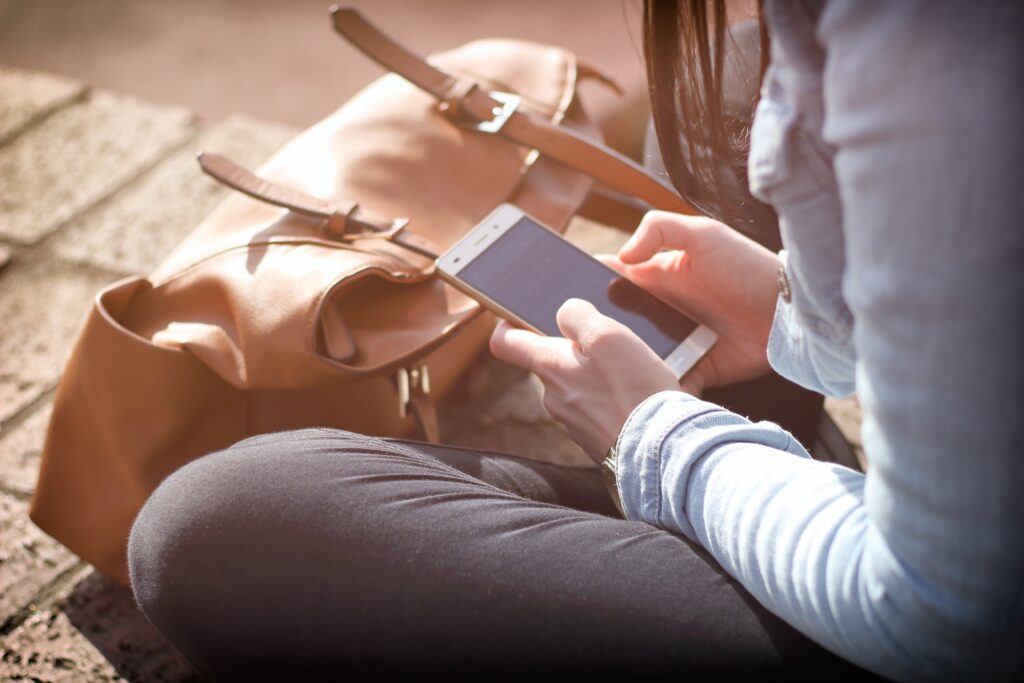 We bet nobody can live without their cell phone, but just a heads up, Canadian phone plans are more expensive than most of the other countries. At GEC, all our residents can access our exclusive GEC Club discounts and services for free! Our partner, PhoneBox, can assist GEC residents to set up Canadian phone plans. SIM cards can ship to your home country or GEC. The phone plan starts at $35 per month, which is a cheaper option for our students to choose from! (Get your PhoneBox sim card here)
You can also purchase your phone plan via different phone plan providers, like Bell, Fido, Koodo, Rogers, Telus, Virgin.
9. Transportation from Airport
It is optional on the checklist for Vancouver Canada. However, You may need a helping hand to take you to your apartment when you first arrive in Canada, and we've got you covered! We partnered with Beaton's Meet & Greet to provide safe and professional transportation services from YVR Airport to your GEC residence. Service Starts at $70 per trip. (Book your trip here)
10. Personal Belongings
On the checklist for Vancouver Canada, you will need to pack your suitcase with your personal belongings like universal travel adapters, personal grooming, your medications, etc. (Click here to see the checklist of what to bring in Canada for your first week).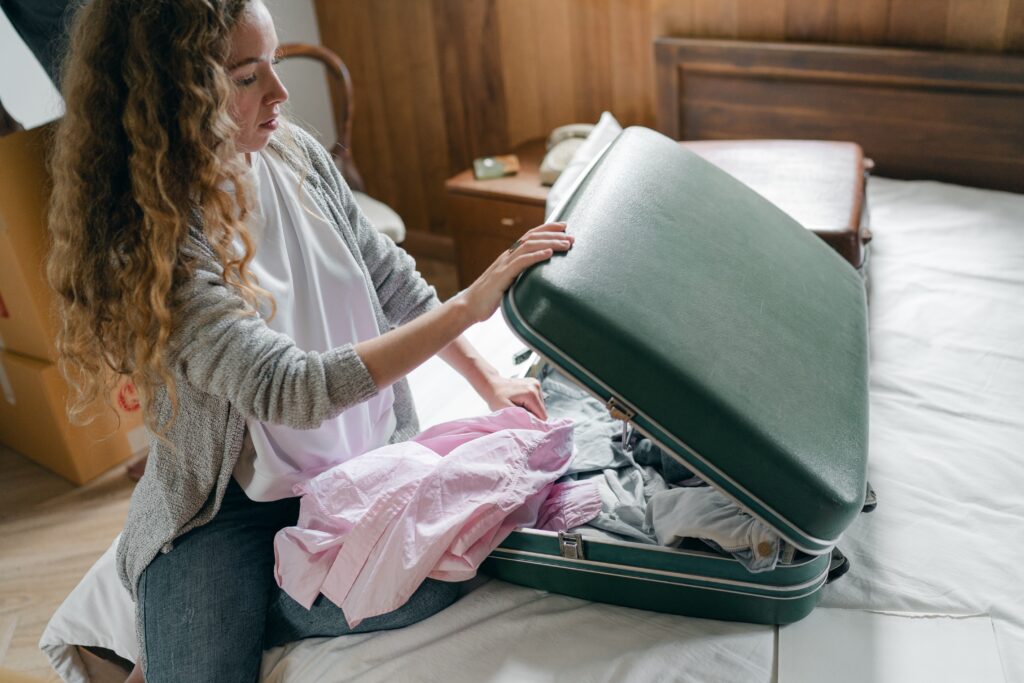 Please note that Canada has a snowy winter! Don't forget to bring your winter gear with you, especially if you are coming for your winter semester. If you would like to purchase winter clothes here, the winter coat may be a little bit pricey, but it should be easy to find in Canadian stores including SportChek and Walmart. In addition, Vancouver rains a lot, so it won't hurt to bring a pair of rainboots with you, or you can purchase them from the local stores as well.
Last but not least, remember to download and print out the complete checklist for Vancouver Canada before you go!
More From the GEC Living Blog