All You Need to Know About Public Transit in Vancouver
Vancouver has a well-rounded transit system serving both Metro Vancouver and the Lower Mainland areas. TransLink, Metro Vancouver's regional transportation authority, runs an accessible network of rapid transit, and other services. Both locals and visitors praise the convenience of public transit in Vancouver.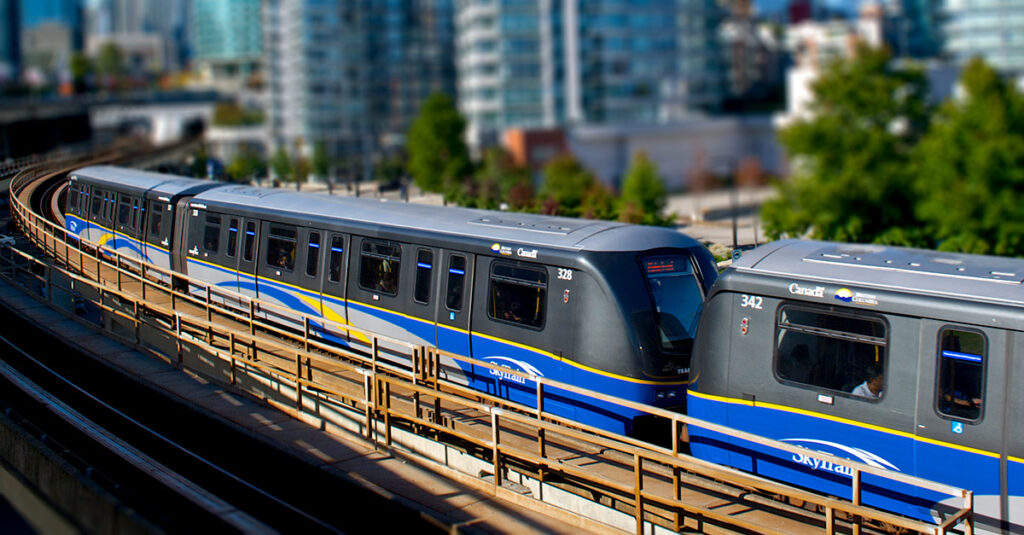 Index | Public Transit in Vancouver
Compass Card
What is a compass card?
In Vancouver, passengers use "compass card" to pay fares for their public transit rides. Compass card makes automated fare collection possible through "readers".
To use any public transit in Vancouver, you need to tap your card to the designated reader and pay your fare. For some, like the SkyTrain, you may also need to tap your card when exiting the station.
As of 2022, Compass Cards cost $6; this is a refundable deposit that can be taken back when you return your card.
How to Get a Compass Card
Getting Your Card from the Compass Card Vending Machine
Go to any Skytrain station to use the compass card vending machine.
On the screen, click > New Compass Card.
You can get a "day pass" (to use for the whole day) or a "monthly pass" (set price to use as much as you want for the month)
If you choose the monthly pass option, you can check the "Skytrain Zone Map" online or at the station to estimate how many zones you will travel.
Remember: When you get a Compass Card, you'll pay a $6 refundable deposit for the card.
Use a credit card, debit card, or cash to pay. (Cash option may not be available for monthly passes.)
Getting Your Compass Card Online
Go to https://www.compasscard.ca/ and click > Purchase a Card
Select Card Type: Adult
Select if you'd like to add stored value or a pass.
Click > "Add to Order" and type your shipping information.
Proceed to pay a $6 refundable deposit and a stored value (if applicable).
Your card is being processed. According to Compasscard.ca, "Cards ordered online will be mailed through Canada Post and may take up to 10 business days to arrive."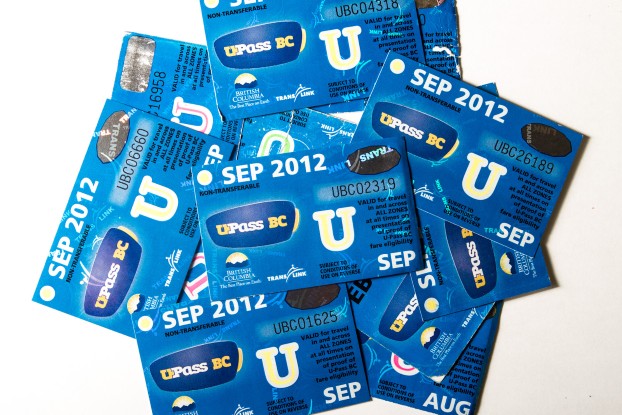 What is U-Pass?
U-Pass refers to the partnership program between TransLink and the province of BC. The purpose of the U-Pass is to make transportation affordable for students in the region.
Most institutions in BC make it mandatory for their students to pay for a U-Pass through their tuition. Unless you are exclusively distance learning, you will be required to get a U-Pass to use public transit in Vancouver as a student.
For example, U-Pass costs $173.40 per academic term or $43.35 per month for UBC students (subject to change). (source)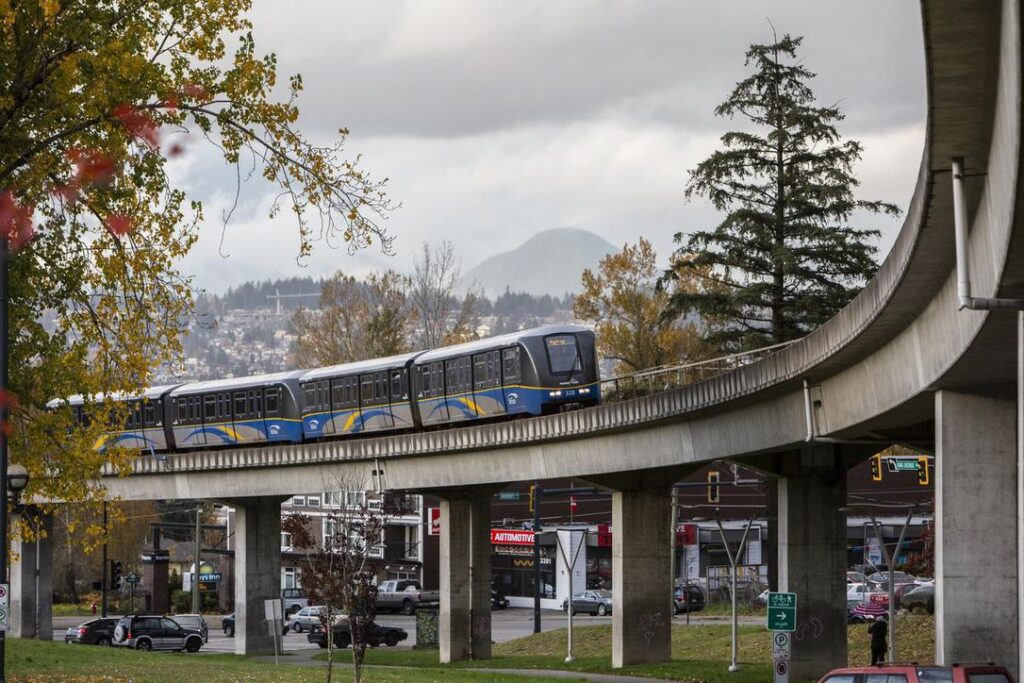 Vancouver SkyTrain | Public Transit in Vancouver
Vancouver SkyTrain is a fully automated rapid transit system. The SkyTrain gets its name from the way it travels— above the ground! It is supported by tracks underground and elevated guideways above.
As of 2016, SkyTrain is the longest rapid transit system in Canada and the longest fully automated system in the world. (source)
There are 3 SkyTrain zones, each covering different areas of the city and beyond. (Read more: First Time in Vancouver)
Expo Line: Downtown Vancouver, Burnaby, New Westminster, Surrey.
Millennium Line: East Vancouver, Burnaby, Port Moody, Coquitlam.
Canada Line: Downtown Vancouver, Vancouver International Airport (YVR), Richmond.
Vancouver SkyTrain Ticket Fares
Depending on where you want to go, you will have to travel between SkyTrain zones. You can determine the zones of your travel and estimate the cost based on the following chart:
CASH FARES // CASH
PASS TYPE
1-ZONE
2-ZONE
3-ZONE
Adult
$3.05
$4.35
$5.90
Concession
$2
$3
$4.05
CONTACTLESS PAYMENT FARES // TAP TO PAY
PASS TYPE
1-ZONE
2-ZONE
3-ZONE
Adult
$3.05
$4.35
$5.90
STORED VALUE // COMPASS CARD
PASS TYPE
1-ZONE
2-ZONE
3-ZONE
Adult
$2.45
$3.55
$4.60
Concession
$2
$3
$4.05
MONTHLY PASSES // COMPASS CARD
PASS TYPE
1-ZONE
2-ZONE
3-ZONE
Adult
$100.25
$134.00
$181.05
Concession
–
–
$57.30
DAY PASS // COMPASS CARD/TICKET
PASS TYPE
ALL ZONES – ALL-DAY
Adult
$10.75
Concession
$8.45
Vancouver SkyTrain Hours
According to the TransLink website, you can expect more frequent trains during peak hours, and lesser during regular hours.
To plan your trip, using public transit in Vancouver, and view schedules: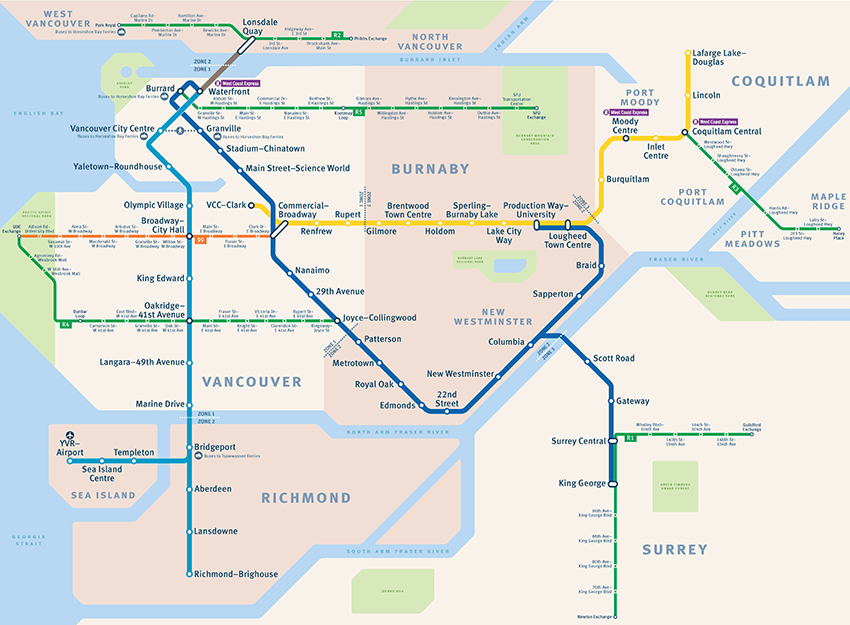 SkyTrain frequency is based on the following factors:
Peak Hours: Morning and afternoon rush hour when there's the greatest demand and transit's the busiest.
Midday: The period of time between the morning and afternoon peak hours.
Evening: The time period following the afternoon peak hours.
Late night: Following the evening service period, extending to the early hours of the morning.
Early Sat/Sun: Early mornings on the weekends.
Sat, Sun/Holidays: From late morning to late night on weekends and statutory holidays.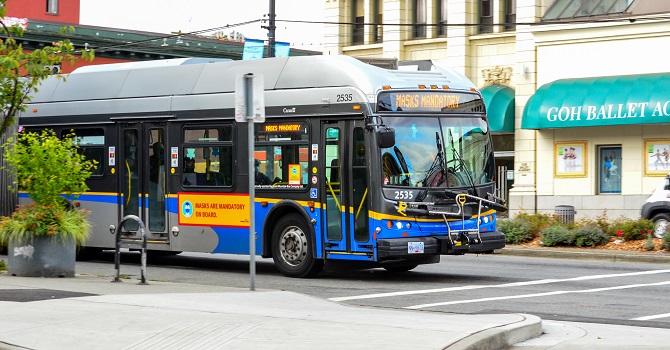 Vancouver Bus System
The wide net of public transit in Vancouver includes busses, trolleys, and community shuttles take passengers to Vancouver attractions, SkyTrain stations, and other common meeting areas easily and frequently.
To see bus routes, you can type in the number of the bus or the bus stop on this Schedule Finder.
The pricing remains the same for the bus services. For the most part, busses charge a 1-zone fee.
Bike and Ride | Public Transit in Vancouver
Bikes are permitted in all public transit services in Vancouver with some restrictions.
SkyTrain, SeaBus, and West Coast Express allow bikes on board:
Electric Bikes: Allowed on SkyTrain, SeaBus, and West Coast Express.
Folding Bikes: Allowed on SkyTrain, SeaBus, and West Coast Express.
Bikes with trailers: They are not permitted.
SkyTrain / Canada Line: One bike per car
SkyTrain / Expo and Millennium Lines: Two bikes per car
Buses allow bikes on board:
Buses can only accommodate 2 bikes at a time. If you intend to travel at a busier bus route, you may need to wait for the next bus to get on.
Bikes must have a minimum of a 40 cm (16 in) diameter wheel.
Bikes must weigh less than 25 kg (55 lbs).
Electric bicycles are permitted on bike racks if the bike has a lithium battery, which must be removed when the bike goes on the rack.
(Source)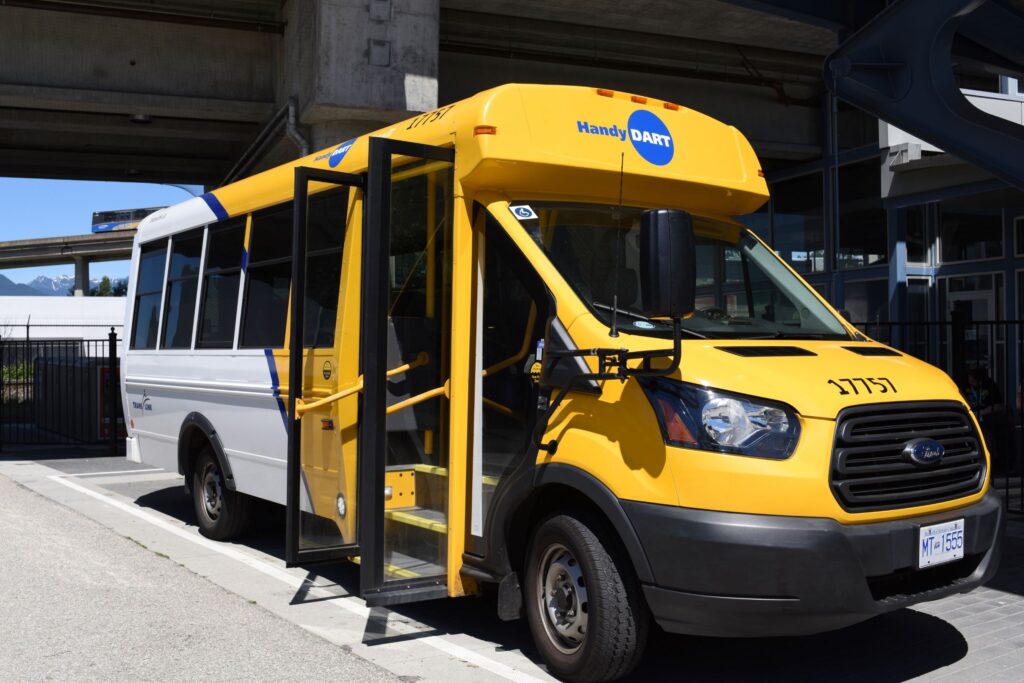 Vancouver HandyDART
Vancouver has a ride-share service for those who are unable to use conventional public transit; Translink's HandyDART is a door-to-door service that assists its passengers.
HandyDART has two types of services:
Subscription trips: Repeating trips (on a daily or weekly basis)
Casual trips: One-time trips that do not repeat.
Taxi Supplement: If a HandyDART is not available during your requested time, the service provider will supplement the trip with a taxi.
HandyDART Eligibility
According to TransLink, "If you have a physical, sensory, or cognitive disability and cannot use conventional public transit without assistance, you may be eligible to use HandyDART." You can check out TransLink's website and fill out an application form to use HandyDART services.
HandyDART Fares
HandyDART trips are considered 1-Zone trips. You can use your Compass Card, credit card, cash or FareSavers (discontinued) to pay.
AGE
FARE TYPE
COST
Adult (19-64)
1-Zone Cash
$3.05
1-Zone FareSaver
$2.45
Sales to be discontinued after Nov. 15, 2021
1-Zone Monthly Pass on Compass Card
$100.25
1-Zone Stored Value on Compass Card
$2.45
Concession (13 to 18 and 65+)
1-Zone Cash
$2.00
1-Zone Stored Value on Compass Card
$2.00
Monthly Pass on Compass Cards*
$57.30
For more information about HandyDART and transit accessibility click here.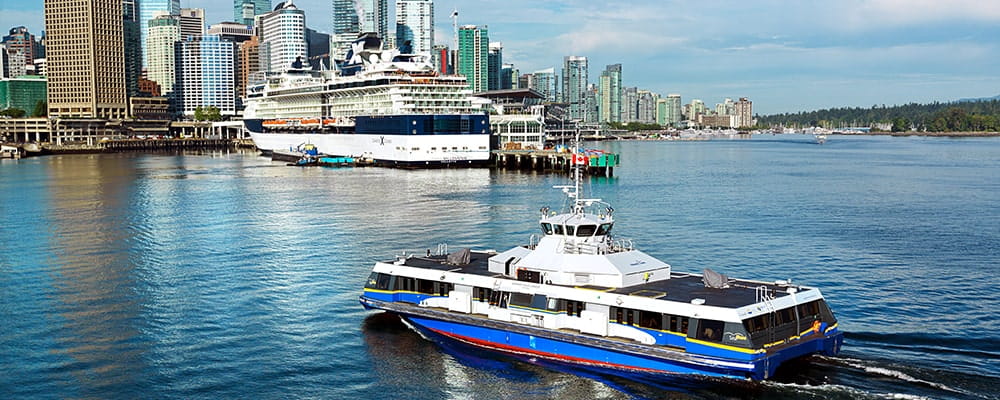 Vancouver SeaBus
Vancouver SeaBus is a passenger-only ferry, serving passengers between Downtown Vancouver and North Vancouver. The ferry departs every 15 mins at daytime, running 7 days a week. The SeaBus rides take 12 minutes only!
SeaBus Fares
Travelling on the SeaBus includes 2 fare zones, which means a ticket for the SeaBus is $4.25.
A day pass costs $10, which includes travelling with all the other public transit options in Vancouver. Similarly, you can also purchase a monthly pass for your compass card and use all transit options including the SeaBus.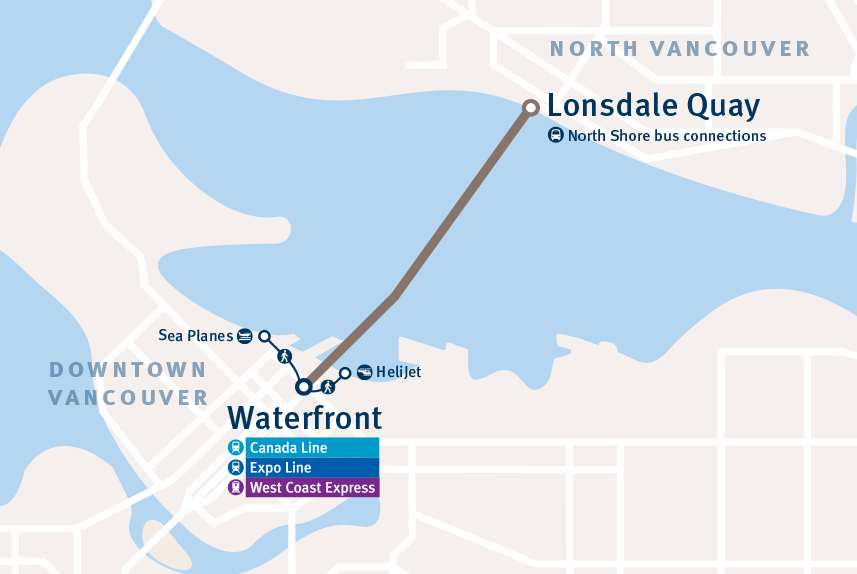 First and Last SeaBus
Below chart was taken from the TransLink's website.
Departing from Waterfront
| | | |
| --- | --- | --- |
| DAY(S) | FIRST SEABUS | LAST SEABUS |
| Monday to Friday | 6:16 a.m. | 1:22 a.m. |
| Saturday | 6:16 a.m. | 1:22 a.m. |
| Sunday/Holidays | 8:16 a.m. | 11:16 p.m. |
Departing from Lonsdale Quay
| | | |
| --- | --- | --- |
| DAY(S) | FIRST SEABUS | LAST SEABUS |
| Monday to Friday | 6:02 a.m. | 1:00 a.m. |
| Saturday | 6:02 a.m. | 1:00 a.m. |
| Sunday/Holidays | 8:02 a.m. | 11:00 p.m. |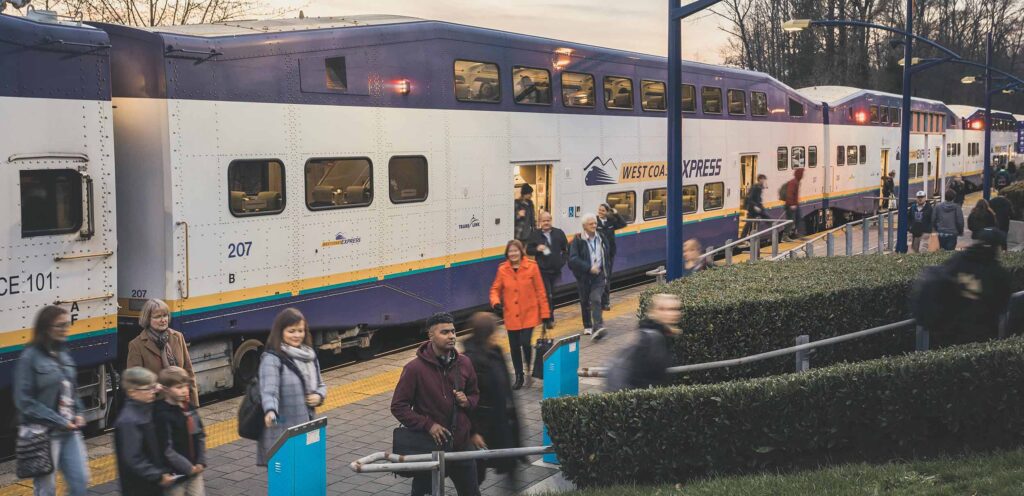 West Coast Express
The West Coast Express (WCE) is a rail service between Downtown Vancouver and Mission City. Moreover, the service is provided during morning and evening rush hours. In the morning, the trains operate from Downtown Vancouver to Mission, and Mission to Downtown Vancouver. The WCE supports a large commuter traffic of the public transit in Vancouver.
West Coast Express Schedule
Morning departures start as early as 5:25 am and evening schedules end at 7:35 p.m.
West Coast Express Fares
Fares change depending on where you get on and off the train. You can use this link to get an estimate on your trip.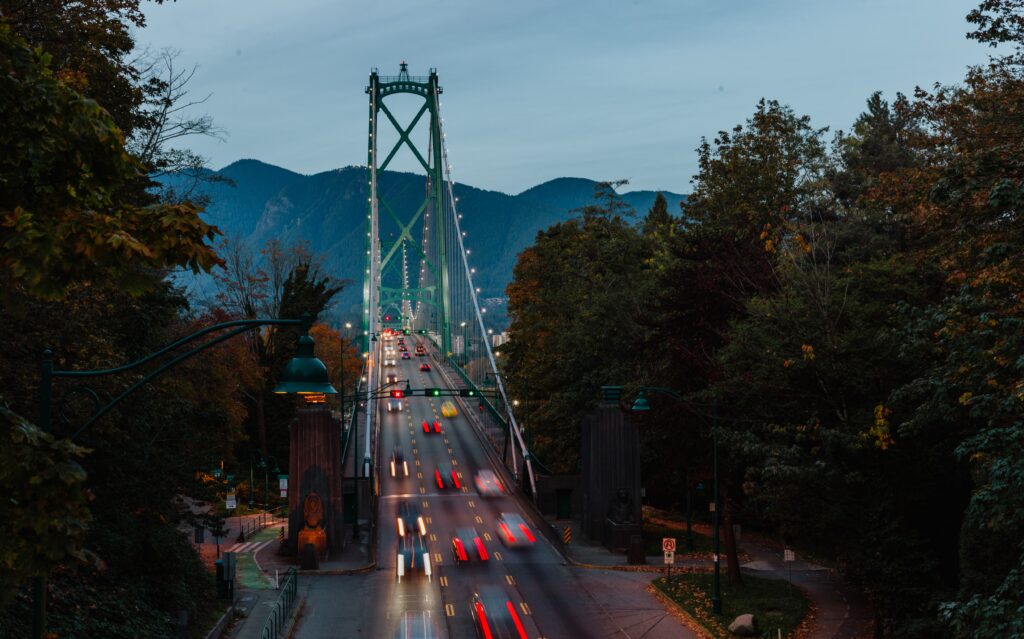 Room to Ride Pilot Program
Is there space on the transit?
TransLink has a pilot program to assess bus capacity based on historical trends. You can check bus capacity beforehand to ensure you plan for your trip and arrive on time on the TransLink app. This pilot program runs until May 2022.
Read more about Room to Ride and other mobile programs: https://www.translink.ca/rider-guide/mobile-services
Download the Transit app: https://transitapp.com/
Plan Your Trip | Public Transit in Vancouver
There are several apps and websites available to help you plan your next trip using public transit in Vancouver. You can use your computer, phone, or mobile device to find out when to leave, and arrive at your destination.
More From GEC Living