What is a Bullet Journal?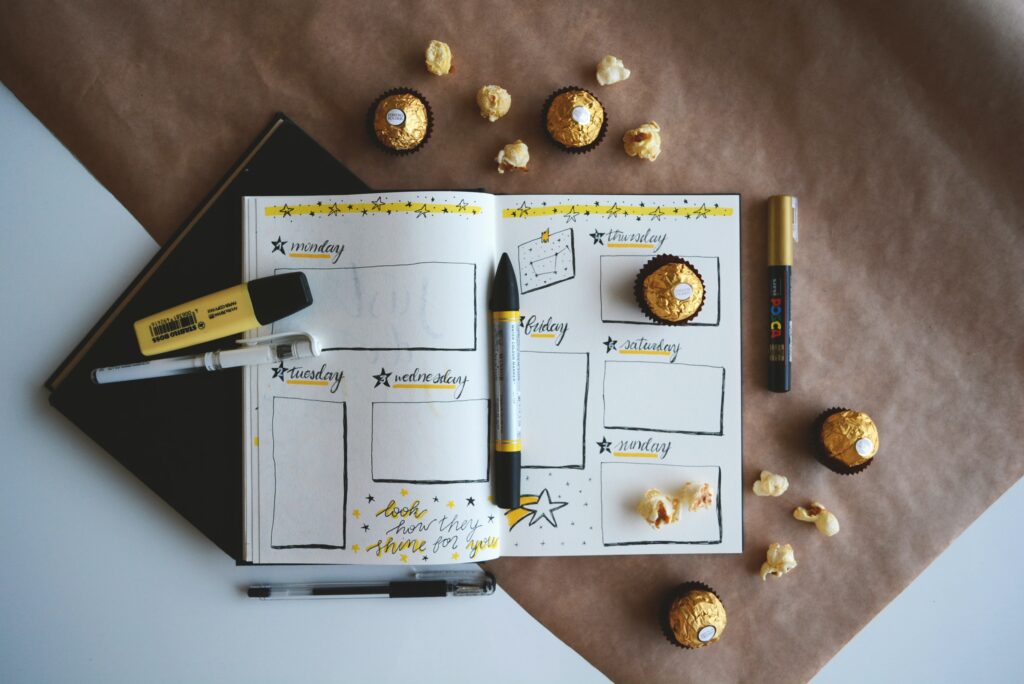 What is a Bullet Journal?
According to Ryder Carroll, the creator of the bullet journal, this system is a mindfulness practice that disguises itself as productivity. The bullet journal allows its user to create a system that works for them, so that they can check in with themselves in a meaningful manner. Users can also track responsibilities and creative ideas at the same time. Instead of having multiple notebooks for work, school, groceries, creative writing, and/or other family events, you can organize them all under one paper roof!
Why Use a Bullet Journal?
As Porch explained, bullet journals have a ton of benefits:
Customizable: Only for you.
Easy to Organize: You can create daily, monthly, yearly lists.
Productive: Brings a sense of accomplishment.
List-friendly: Turns a blank page into goals.
Tracks Goals Long Term: Your calendar can span a long timeline.
Develops Creativity: Build mood boards, sketch, and color.
Promotes Mental Health: Journaling has proven benefits to release stress.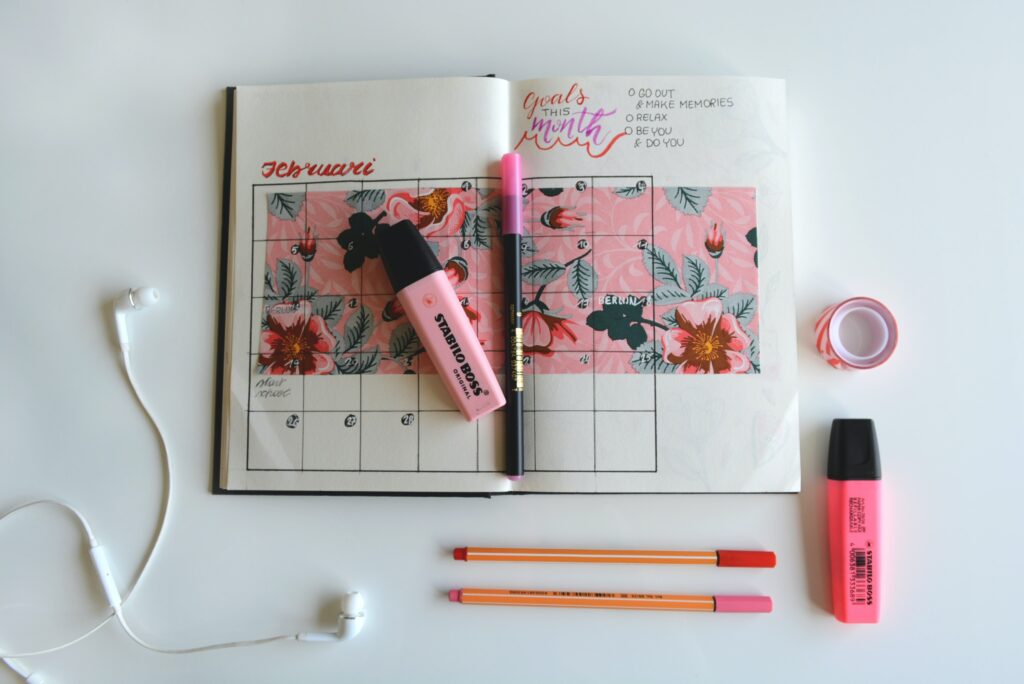 How to Design Your Bullet Journal
There are no hard and fast rules with a bullet journal. By the nature of the bullet journal, you will be buying a blank or dotted one and create a unique system for yourself.
Supplies
Required: A bullet journal, and no-bleed pens of different colors
Optional: Ruler, stickers, sticky notes, washi tapes, watercolors, or other methods of coloring
Creating Your Essential Pages
The Organized Mom suggests you should have the following essential pages to begin tracking the progress you make on your goals.
Title Page
This is the page that can include your mission statement, your values, an encouraging quote, a beautiful sketch, and other inspiring creative ideas. Make this page one that brings you positivity!
Index
You can include an index with your journal, so you can get a glimpse of all the things that you are tracking. This way, you can navigate through your pages easily or simply remember what to think about during the day.
The Daily Spread
This is the place where you plan your day, track your small goals for the day and perhaps check your mood, note down your ideas, and track down the habits you'd like to develop.
The Weekly Spread
The weekly spread is where you look at your weekly goals as well as big appointments and important dates. You can also jot down your dinner ideas, to-dos for the family, and weekly deadlines for school assignments. Alternatively, you can have a separate page to track your habits.
Goals Spread
There are many ways to track your goals. You can have individual pages for specific goals like the examples here. You can also have a spread for your monthly and yearly goals to track your sleep, exercise, business-related milestones, progress made on major projects and more. You can keep logs for the movies you watch, books you read, articles you write and even track your caffeine intake!
Weekly Shopping List and Meal Planner
You can plan the meals you'll be cooking ahead of time and create a weekly shopping list to prepare those meals! Taking an organized approach towards your meals can help you come up with a menu, so you don't have to spend extra money on UberEats so last minute. Check out Kalyn Brooke's tips on creating a great meal plan component within your journal.
Your Creative Board
Every bullet journal needs a creative component that will inspire its user. Think about this as your vision board. Jot down your dreams, sketch your vision, write the quotes that inspire you, and/or focus on the creative work that you do. This page should give you all the inspiration you may need to tackle your days ahead!
Review Spread
You can review your month in these sections and monitor how you are doing in terms of meeting your goals. This will help you set mindful goals and adjust your goals accordingly for the coming months.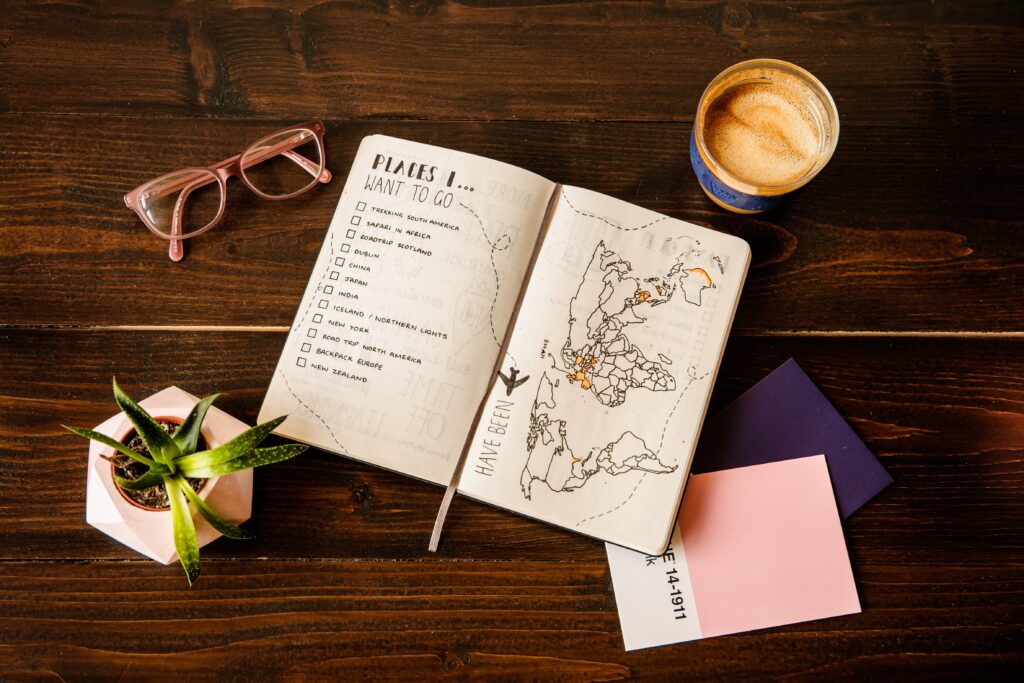 Final Remarks About The Bullet Method
Bullet journaling is a great way for students, and anybody else, to stay organized and prioritize their tasks. However, a bullet journal is not for making lists only; the practice of bullet journaling can help your general mental health as it is a destressing activity. Bullet journaling can also help students gain new organizational skills that may be beneficial in the future as they transition to their professional careers. Overall, we recommend trying out bullet journaling for an easy and creative method of organization and mindfulness.
Check Out These Bullet Journals for Inspiration
Read Other GEC Blogs
If you enjoyed this article, feel free to check out the following as well: