Upmeals Review: Weekly Meal Plan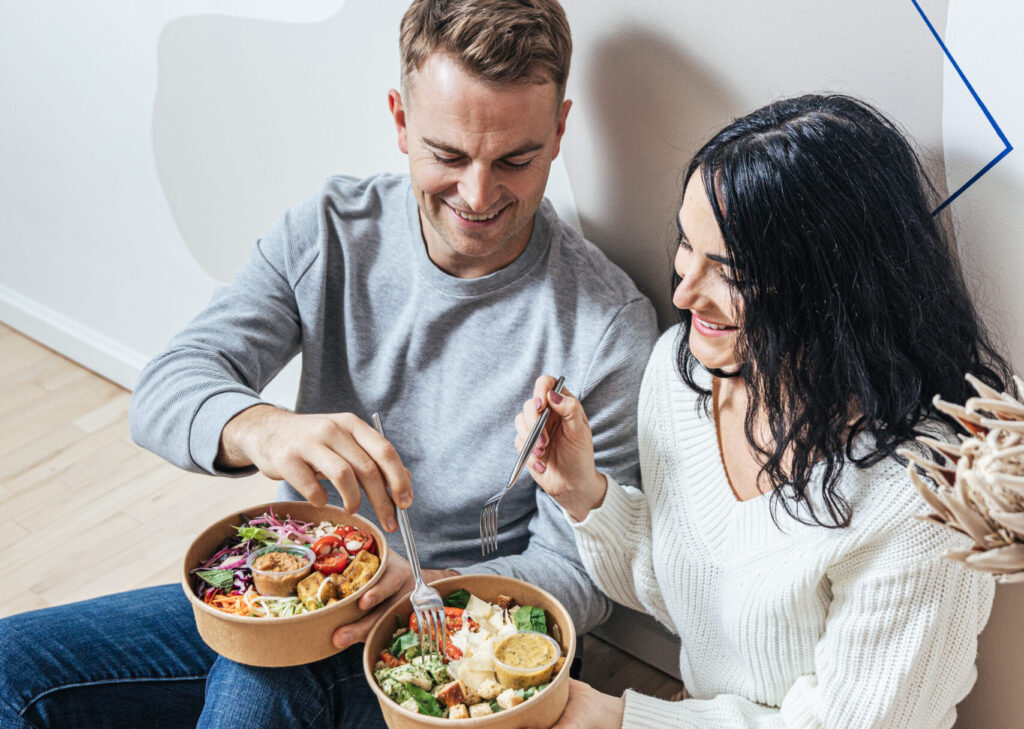 Upmeals have been a partner of the GEC Living brand with the installation of their first vending machine at GEC Pearson in late 2021. Both staff and student housing residents have been enjoying their healthy and sustainable food options from Upmeals through their vending machines already; we are equally excited to be taste-testing their newest meal delivery service as a company. Read our Marketing Coordinator, Hazal Tiryaki's honest review of Upmeals Meal Delivery Service.
Ordering Your Upmeals Meal Delivery
First things first, ordering Upmeals through their website was a very easy, streamlined process. I went to Upmeals' meal delivery website, clicked "get started", and "see pricing" to order my meal.
It should be noted that Upmeals is not fully customizable, meaning that you cannot pick and choose which dishes you would like delivered. This is normal as this is exactly how other meal plans by companies work. You can choose your dietary preferences at Upmeals including but not limited to allergies or intolerances and protein preferences.
You can follow your order via Upmeals' tracking system (similar to any mail delivery system like UPS or FedEx).
I ordered a "one time", 5 days x 3 meals, meal plan. One thing that I noticed was that my meal plan was delivered Monday afternoon, closer to 4 pm. The delivery dates are noted on the website, so this was not a surprise. Other weekly meal plans I've used before were delivered the evening before the day I'd be starting the week of meals. Although I have not subscribed to Upmeals monthly, I expected the deliveries to be made the day before, so that my Monday breakfast and lunch would be ready.
One of the best things about Upmeals is that you can see the ingredients and calories of your food easily. So, if you are dieting you can split the meals or customize your portions as you wish. They also have heating instructions which is a huge relief.
How To Order Upmeals
Upmeals Review: Day of Delivery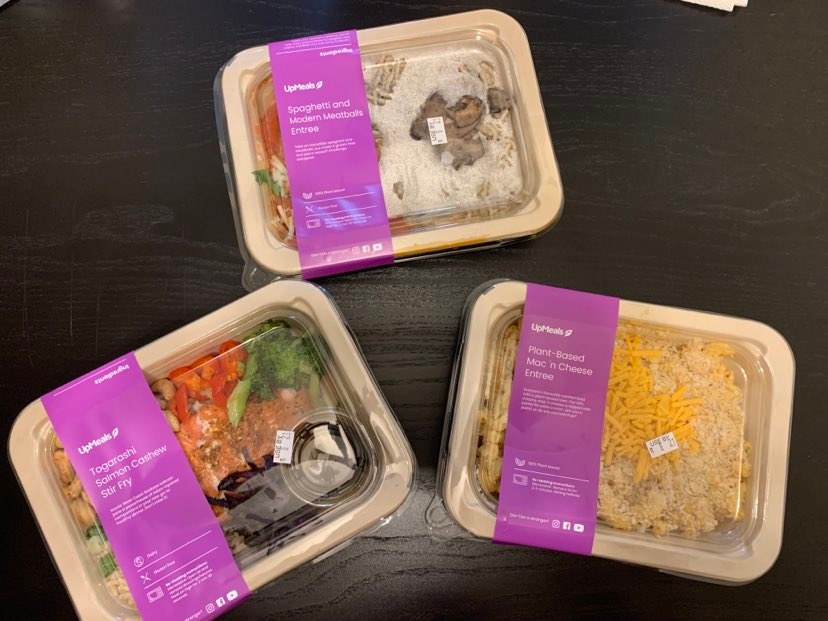 Evening
As my meals were delivered in the afternoon, I had my first Upmeals dinner on Monday evening.
Togarashi Salmon Cashew Stir Fry
This was one of my favorite meals. I love cashews and the provided sauce complimented the salmon well. There were veggies and a good portion of cashews (yum!) included in the meal. I am pretty sure it helped me hit my protein goal for the day but I still wanted to have the side salad with it as well.
Falafel Side Salad
I am so sad I did not get this as a full-size salad. Can we please get a full-size salad with a lot of falafels? I am obsessed with falafel and I loved the leafy greens and the Greek-style sauce that came with it. I could probably have this every day!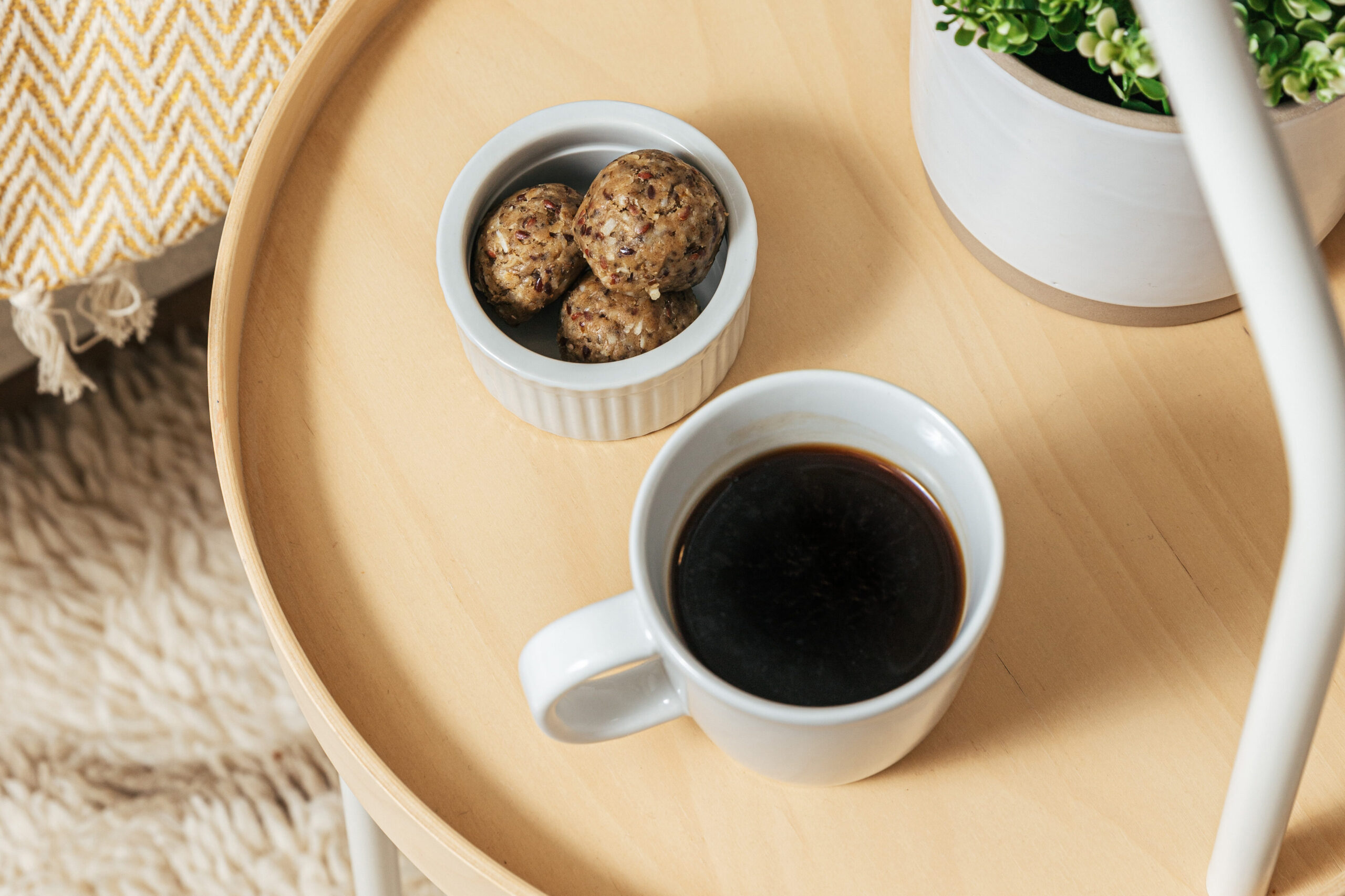 Almond Butter Snack Balls
After feeling so full of the dinner I had, I had one of the almond butter snack balls (3x provided). I tried these, and similar energy balls, from the Upmeals vending machine and loved them already. They provide a great snack option that really curbs your sweet tooth. I had one of these after dinner for the next 2 days as well.
Day 1 Upmeals Review
Breakfast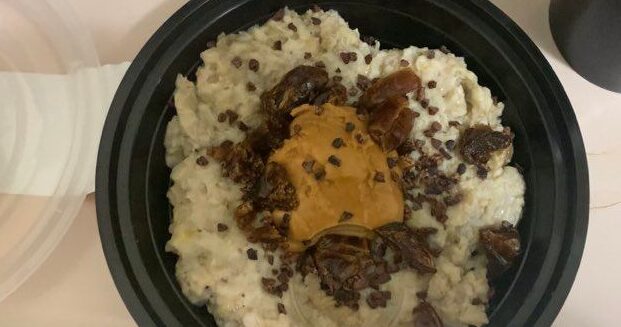 Cacao Cashew Butter Oatmeal
A treat for your palate loaded with generous portions of dates and cashew butter. Bring me this as dessert and I will believe you. This is one of the best-tasting oats I have ever had! But, as I said, the portion was very generous that I couldn't finish it.
Lunch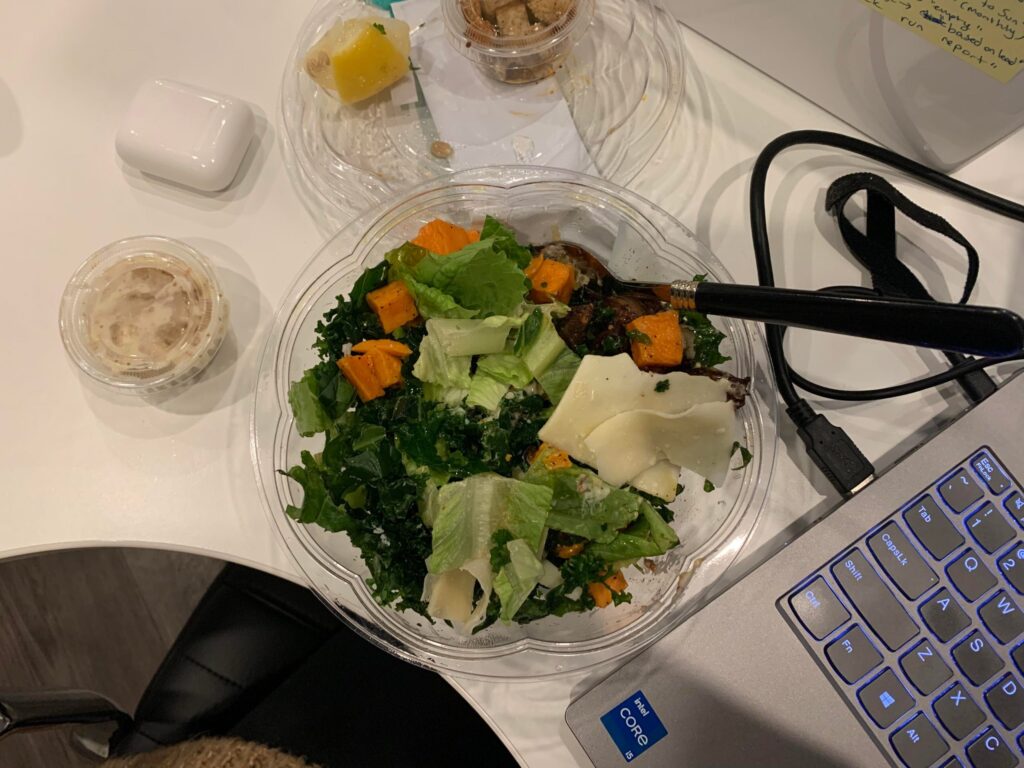 Fully loaded Caesar Salad
This salad is most definitely one of the best salads I have ever had. I love the taste of parsley and lettuce together alongside the mushroom bacon. I have never had bacon in my entire life, but this "fake" veggie bacon was magic for my tastebuds. I bet meat lovers would equally enjoy this combination as well. The dressing was so tasty and my favorite part for this whole salad was its uniquely complementing cheese. Seriously, Upmeals, what cheese does this salad have? Can I get a subscription to that?
Dinner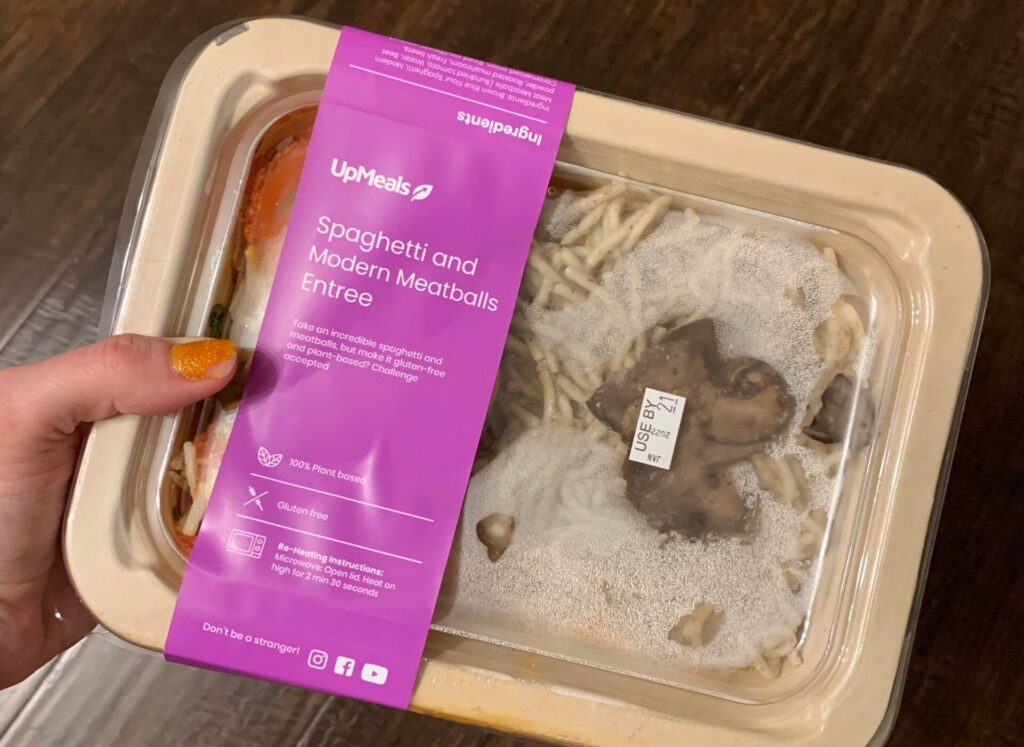 Spaghetti and Modern Meatballs Entrée
This meal was very filling, but I like my spaghetti more on the "al-dente" side, so I could not appreciate it as much. The veggie meatballs had a good texture to them, but the taste did not differ much from the falafel-balls to me. I did not love this meal but it was not terrible.
Day 2 Upmeals Review
Breakfast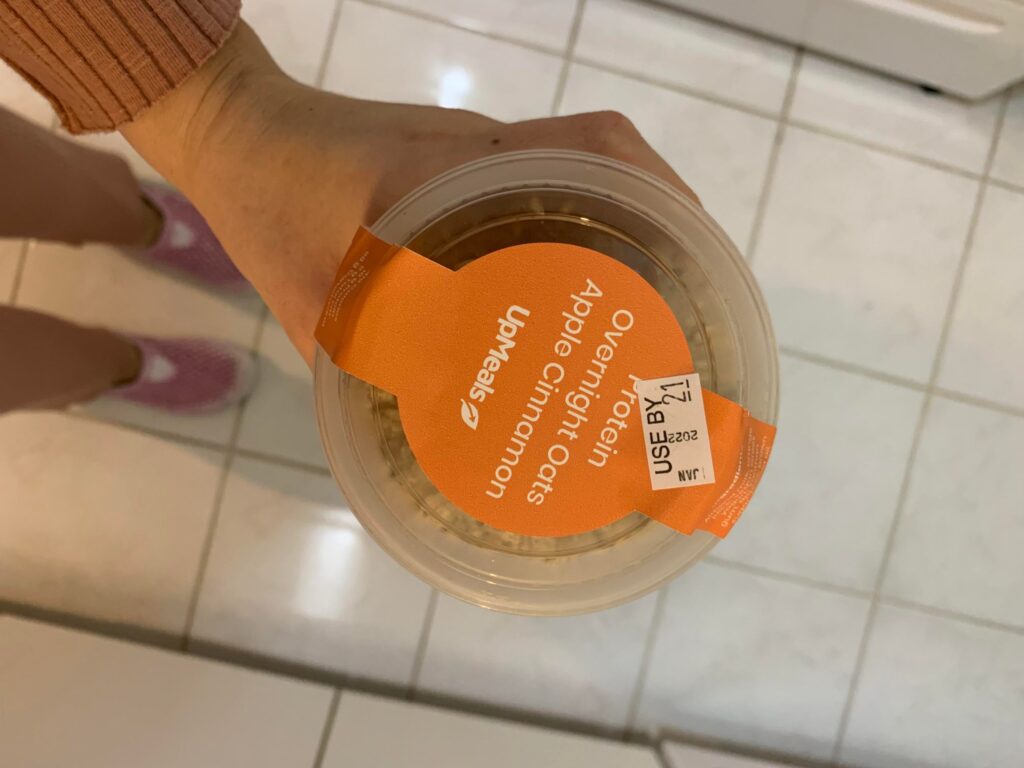 Protein Overnight Oats Apple Cinnamon
I still prefer my dessert-like Cacao Cashew Butter Oatmeal, but these had a refreshing taste to them. I appreciated the added protein to this breakfast.
Lunch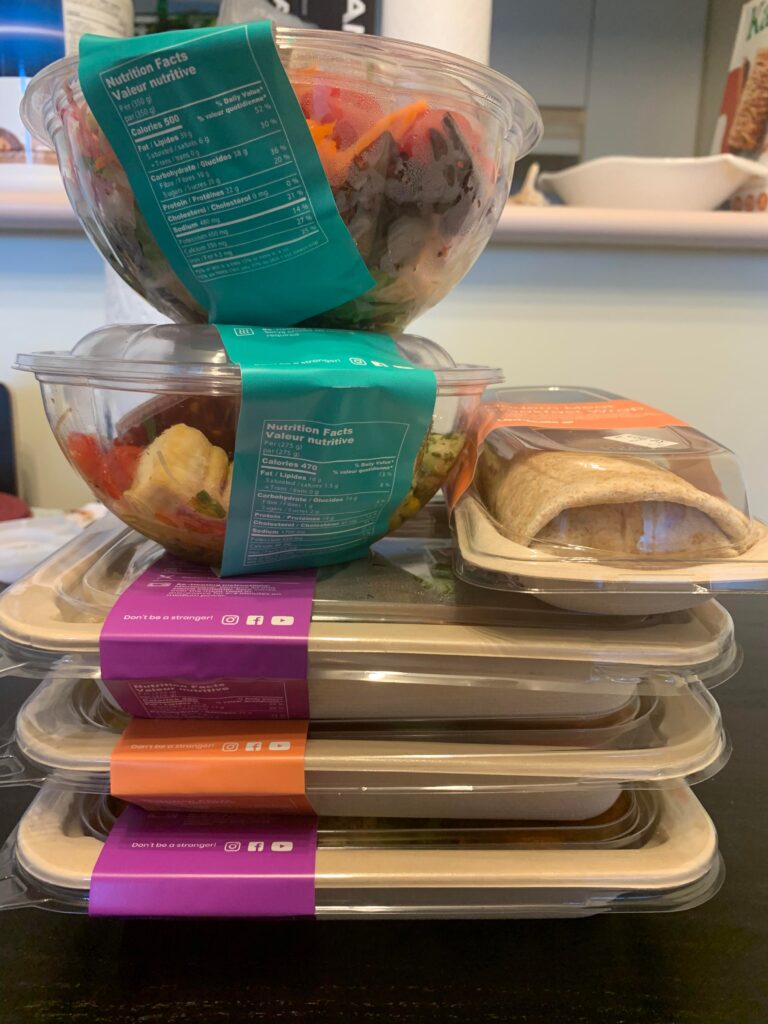 Muhammara Chicken Wrap
Say yes to this wrap! I love Middle Eastern cuisine and I loved what Upmeals' chef collab did to this recipe. Great sauce and taste overall.
Dinner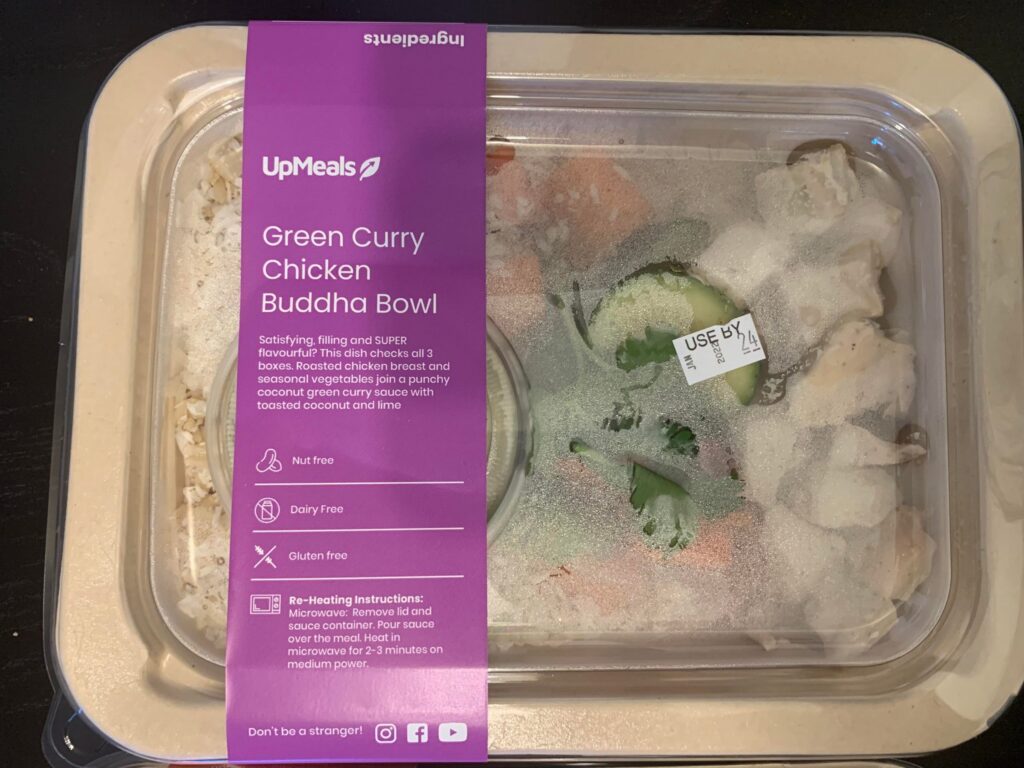 Green Curry Chicken Buddha Bowl
Amazing curry sauce! I am a person who does not like "sauce-y" things generally, so believe me when I say Upmeals nailed their sauce game.
Day 3 Upmeals Review
Breakfast
Shakshuka Egg Breakfast Bowl
Although "shakshuka" sounds like a great idea, I refuse to eat pre-cooked eggs outside the ones I cook. No reason to justify this, just a personal preference. My friend who had the meal told me she really enjoyed it!
Lunch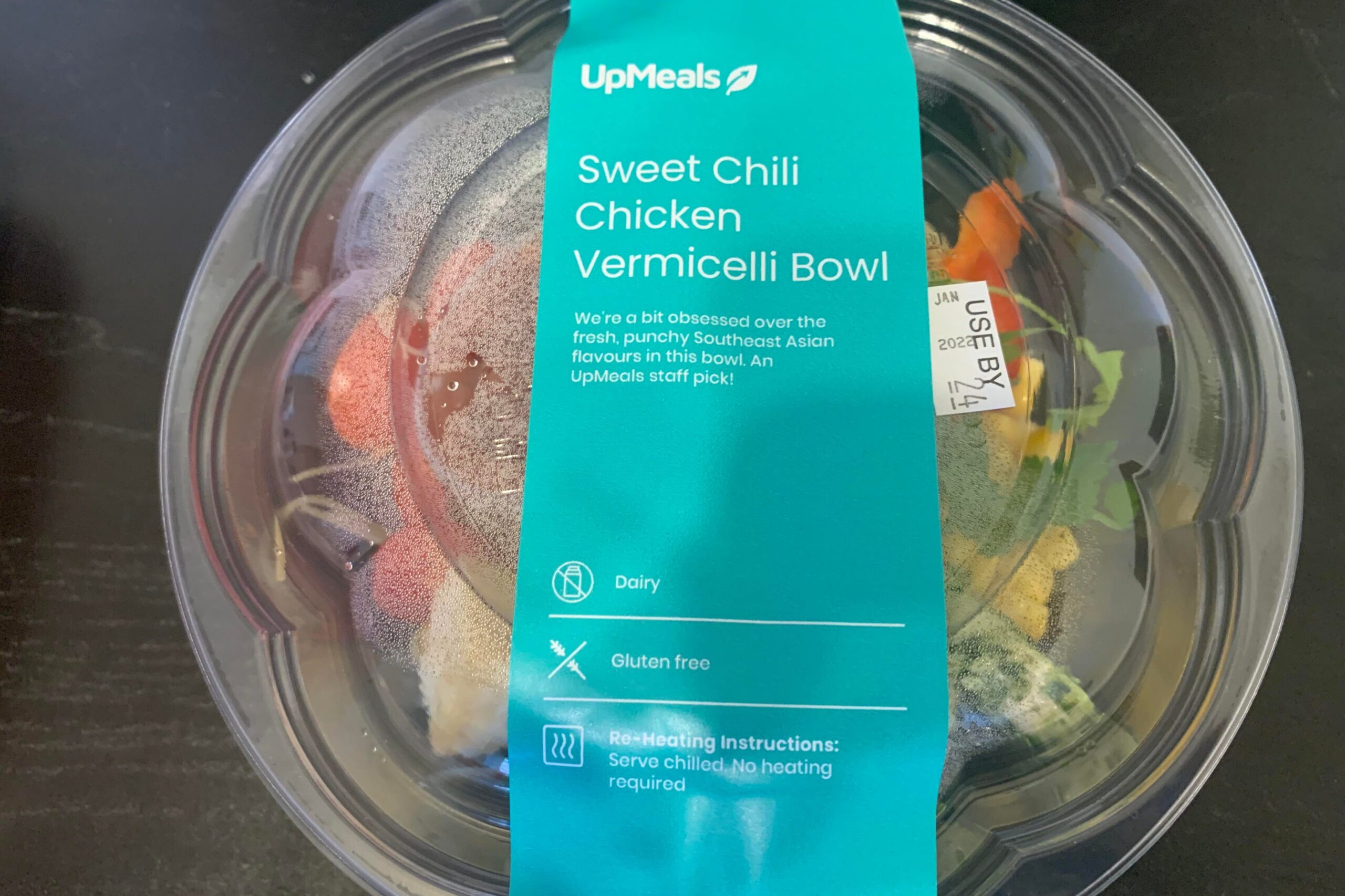 Sweet Chili Chicken Vermicelli Bowl
I am sorry but I do not like this salad. The sauce burned my mouth as it is crazy hot, and as a result, I could not enjoy the chicken or anything else for that matter. This is only dish with a negative comment as part of this Upmeals review.
Dinner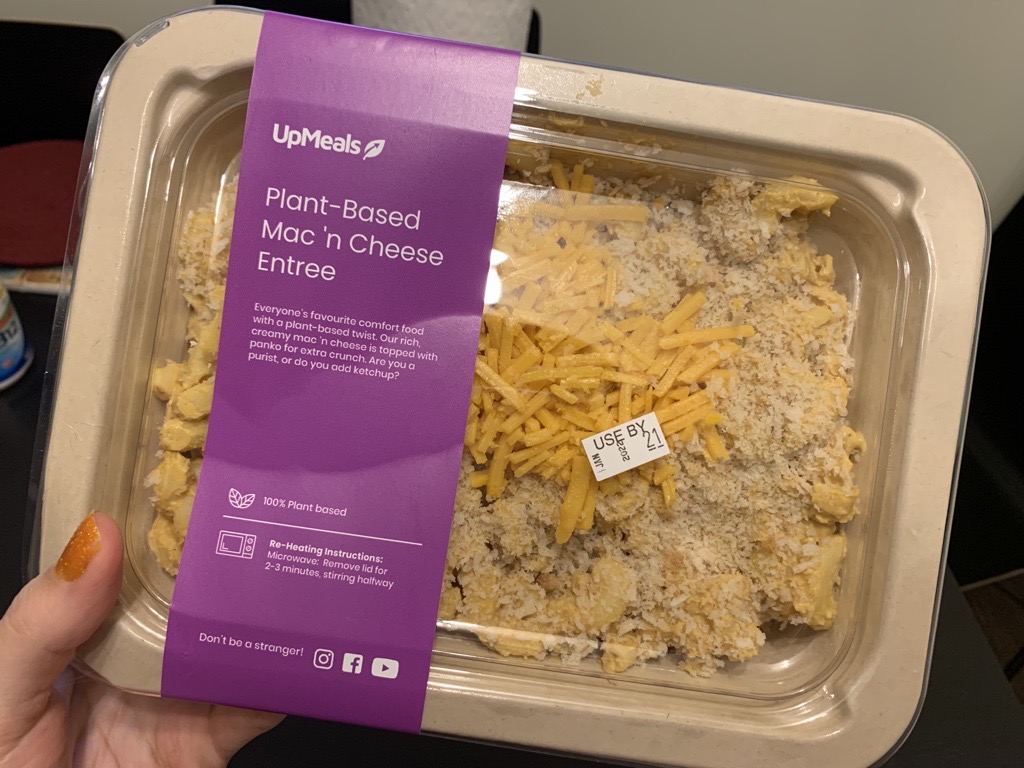 Plant-Based Mac and Cheese Entrée
This entrée had a huge portion (and equally a lot of calories). I could not finish it, so I had it in two different sittings. The taste is AMAZING but sadly, the vegan cheese doesn't mix well; so, do not expect a kraft dinner-like texture from this mac 'n cheese!
Day 4 Upmeals Review
Breakfast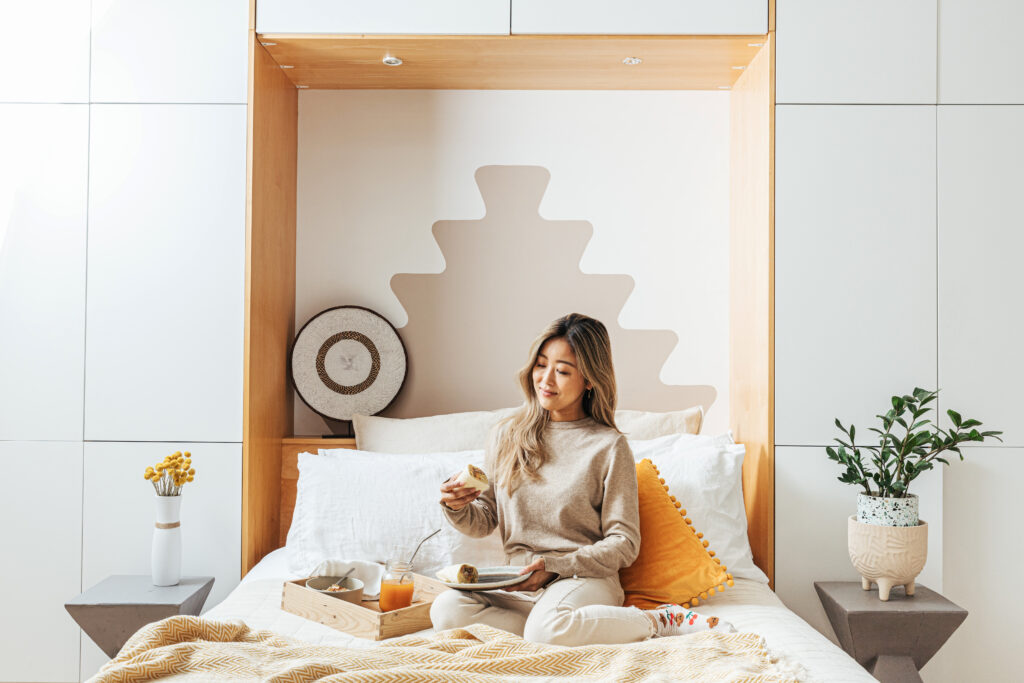 Modern Meat Breakfast Wrap
A mix of spiced tofu, sweet potato, corn, and black beans — extremely filling and tasty. Made me skip lunch because I simply did not feel hungry after this wrap!
Dinner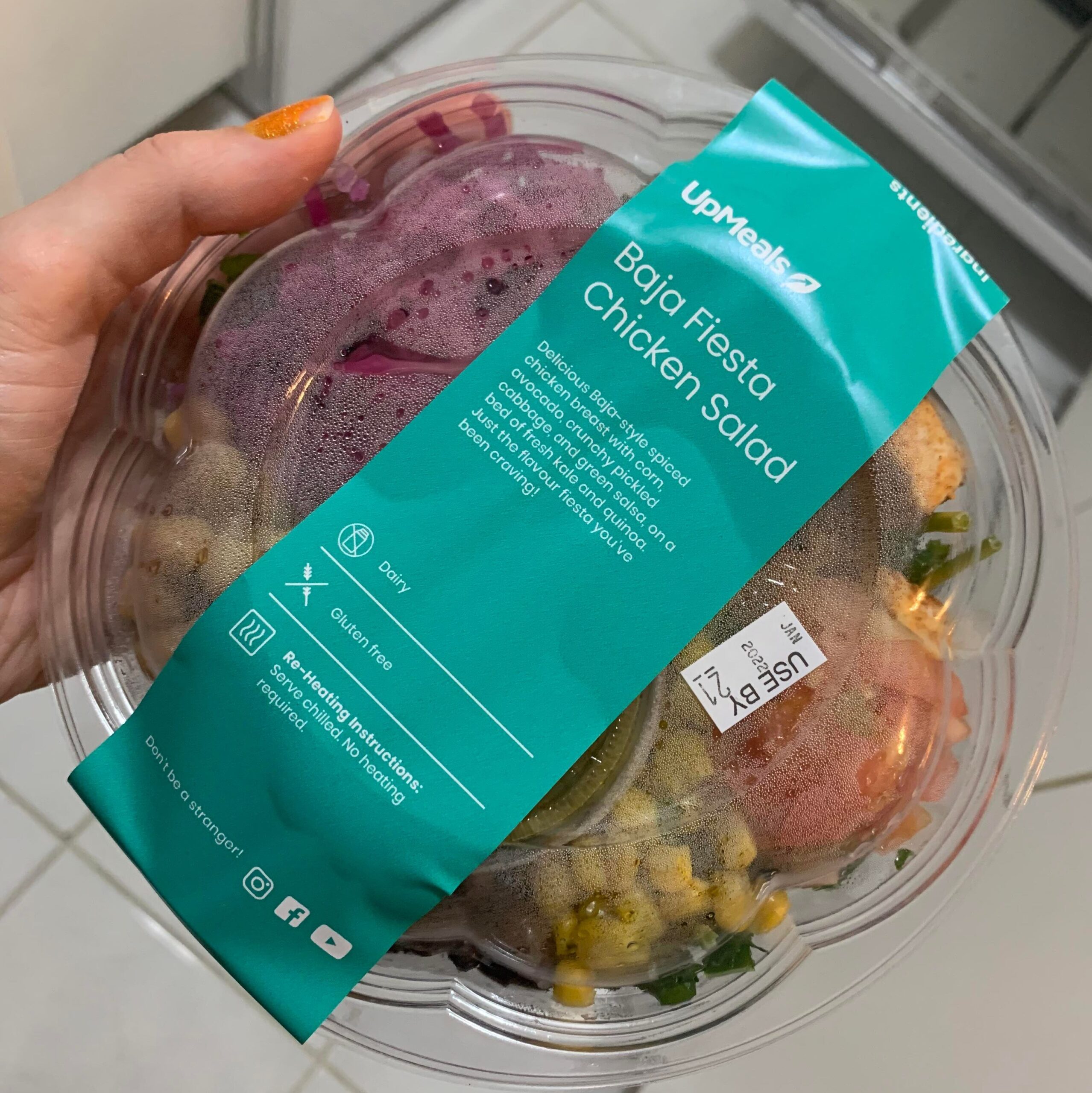 Baja Fiesta Chicken Salad
Another great salad! I did not dislike any of Upmeals' salads and this spicy chicken and quinoa salad was just as tasty and filling as others. Upmeals Review for Salads: 10/10 Fantastic!
Day 5 Upmeals Review
Breakfast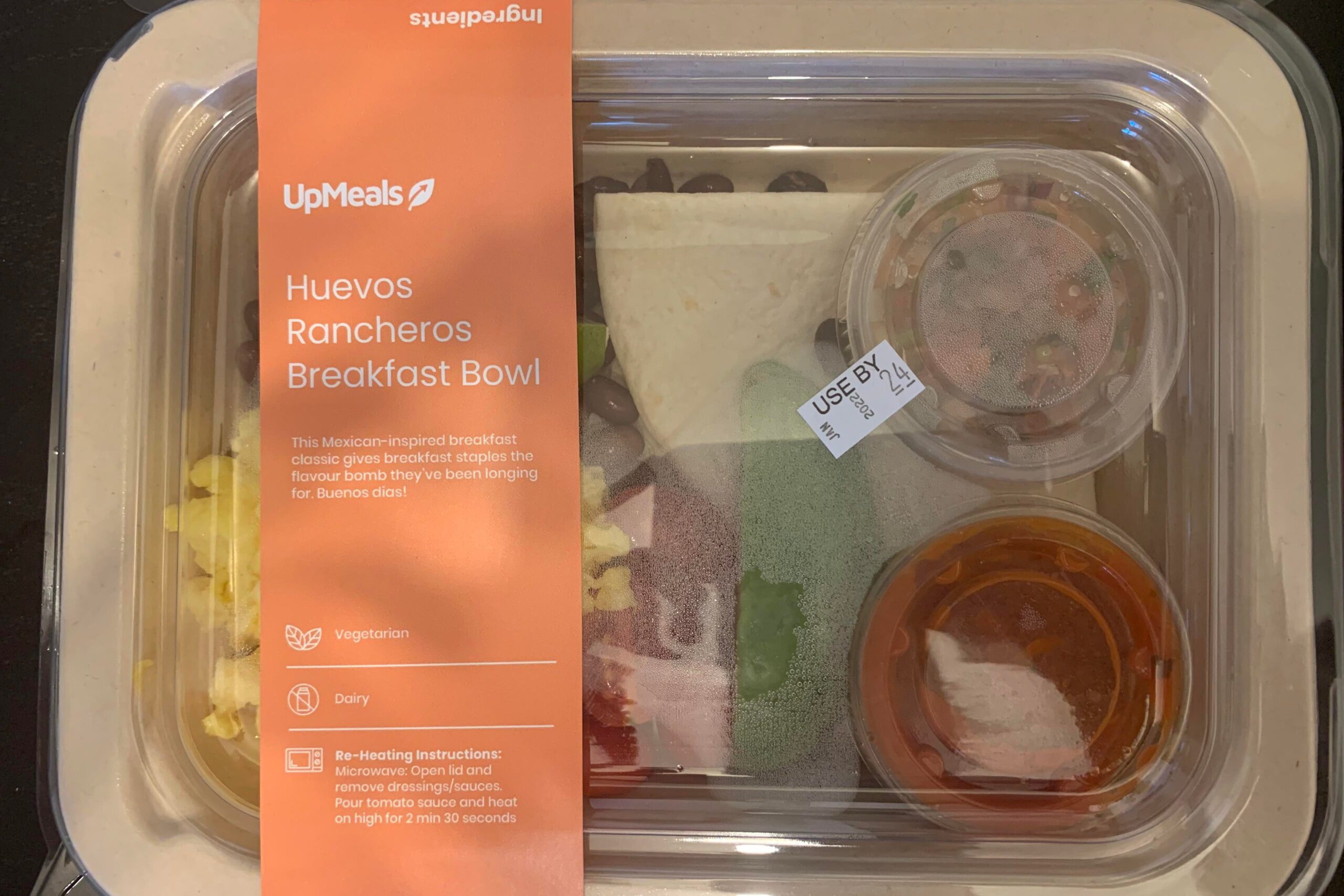 Huevos Rancheros Breakfast Bowl
As I said, I refuse to eat pre-cooked eggs outside the ones I cook. No reason to justify this, just a personal preference. I gave the egg-y meals to a friend, and she said she really enjoyed them!
Lunch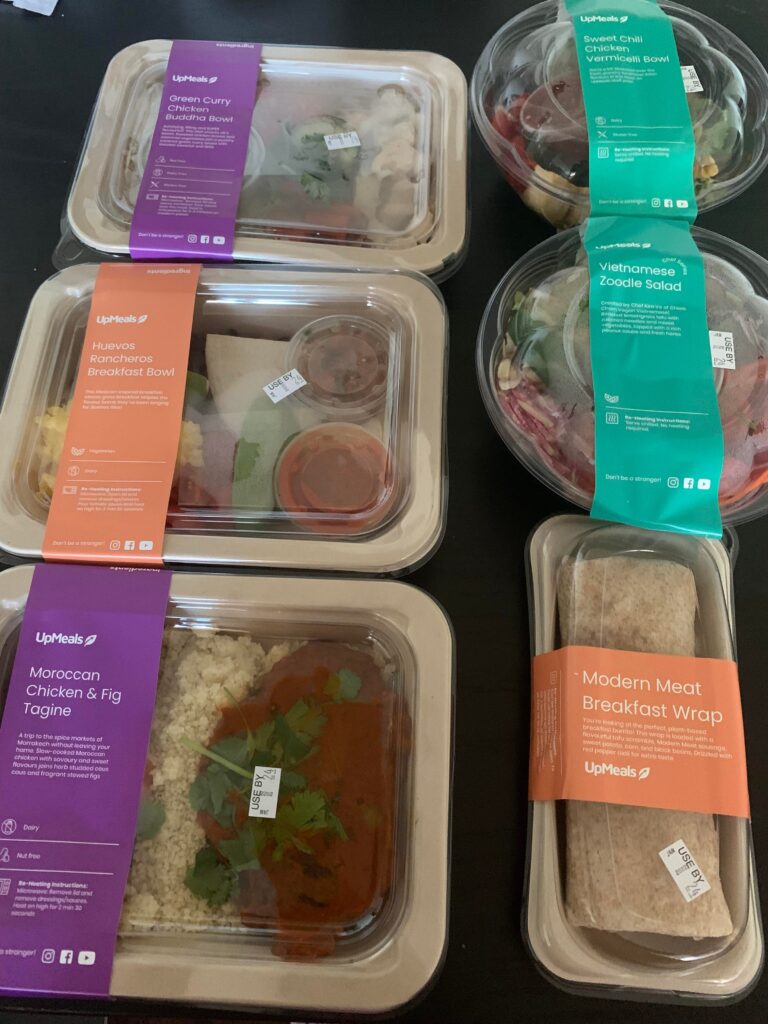 Vietnamese Zoodle Salad
This "zoodle" salad is made of a colorful variation of veggies with a noodle shaped zucchini base; do not worry though all the veggies are raw. I loved the tofu and the peanut sauce (to die for) for this salad. But the sauce was clearly not enough for the salad, and it did not really stick to the raw veggies. It would be a 10/10 recommendation if the sauce was more watery!
Dinner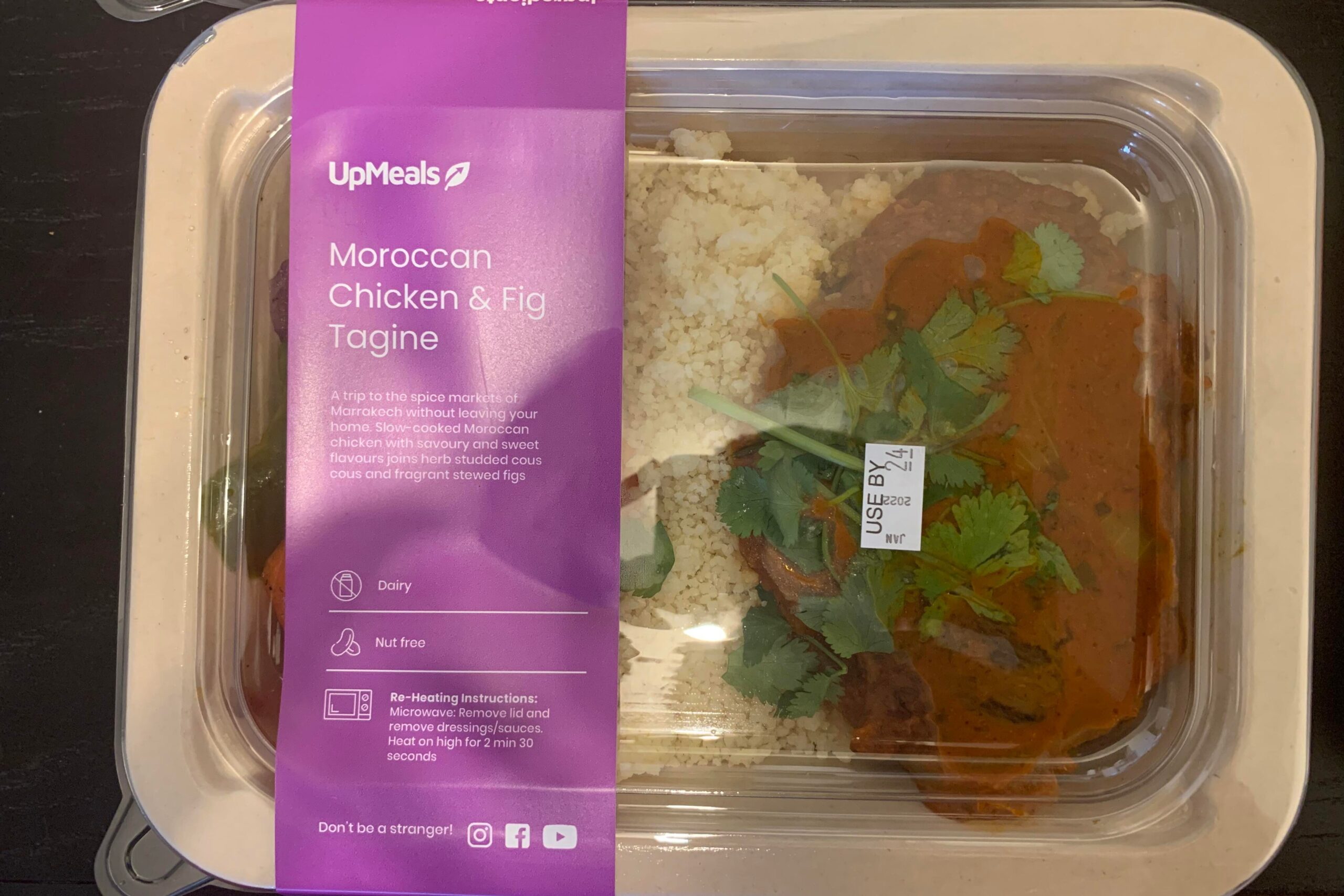 Moroccan Chicken and Fig Tagine
This reminded me of a classic Indian dish, butter chicken, then a Moroccan Chicken although I am sure these two dishes probably have different spices specific to them. The chicken was so moist and soft; I am so sad I did not taste any figs in it but I really enjoyed the steamed veggies and rice that accompanied it.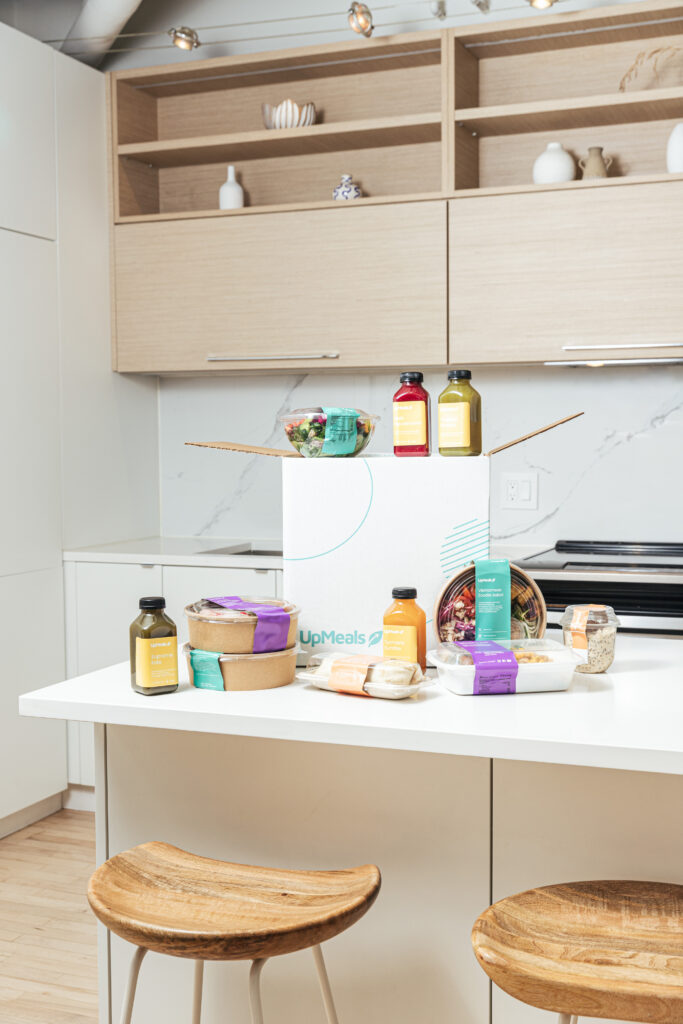 Thank you for reading my Upmeals review! I highly recommend this service to busy professionals, students, or those who want to kick start healthy eating habits.