June 21, 2021 Newsletter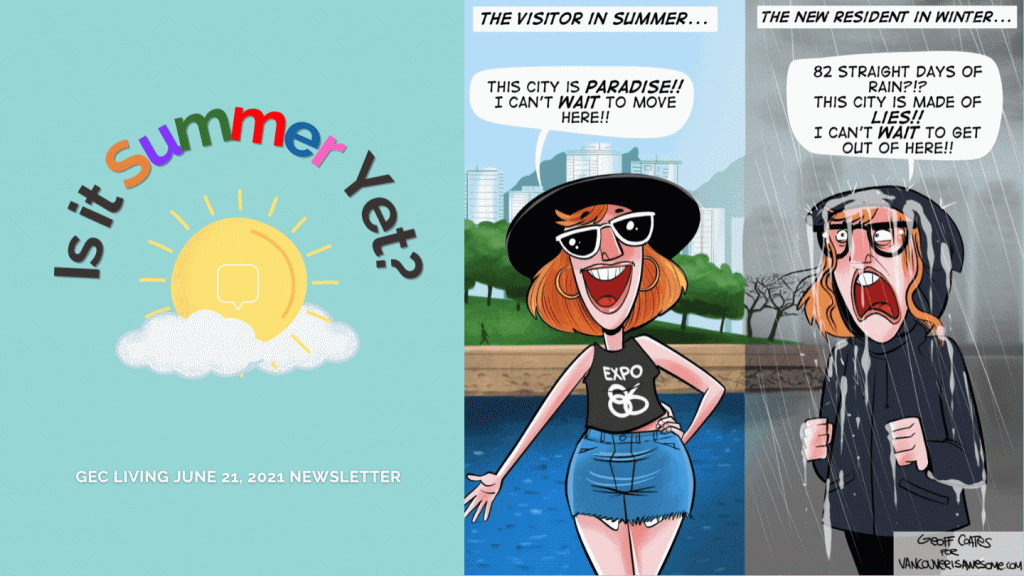 Is It Really the Summer?🧐
Vancouver weather has been crazy… but it seems like it may have turned around? June has been a busy month for us here at GEC. With scheduling live tours 🎫, planning exciting events for our residents, 🎊 and trying to estimate the crazy Vancouver weather 🌧️, we almost forgot that BC's Restart Plan moved on to Step 2! We are thankful COVID-19 cases and hospitalization numbers have been declining; it is great to see our province healing. ❤️

Here are some exciting news:
Join GEC live tours throughout June and July for a chance to win $100 Gift Card! ✅ Don't forget to spread the word and let your friends know!
BC is now in Phase 2 of its Reopening Plan — You can enjoy a film at the movie theatre, attend a group fitness class and travel recreationally within BC! 🎉 Read more in our website.
We also want to make sure we continue the conversation we started during our last newsletter: Pride Month and Education Resources. Please remember the courage it took, and still takes, for LGBTQ+ community to overcome inequality and adversity. In 1978, Gilbert Baker, a gay man and drag queen, designed the colorful rainbow of a flag we know today. 🏳️‍🌈 🌈 The rainbow is a natural flag from the sky, so Baker adopted eight colors that had different meanings. There are many different flags we get to celebrate with today, reflecting the breadth of representation. See what the most commonly used Pride Flag stands for:

It is great to be able to say hi to our residents through these newsletters. If you think one of your friends would enjoy reading them as well, here is the sign up link.
Talk soon, Julie & Hazal
---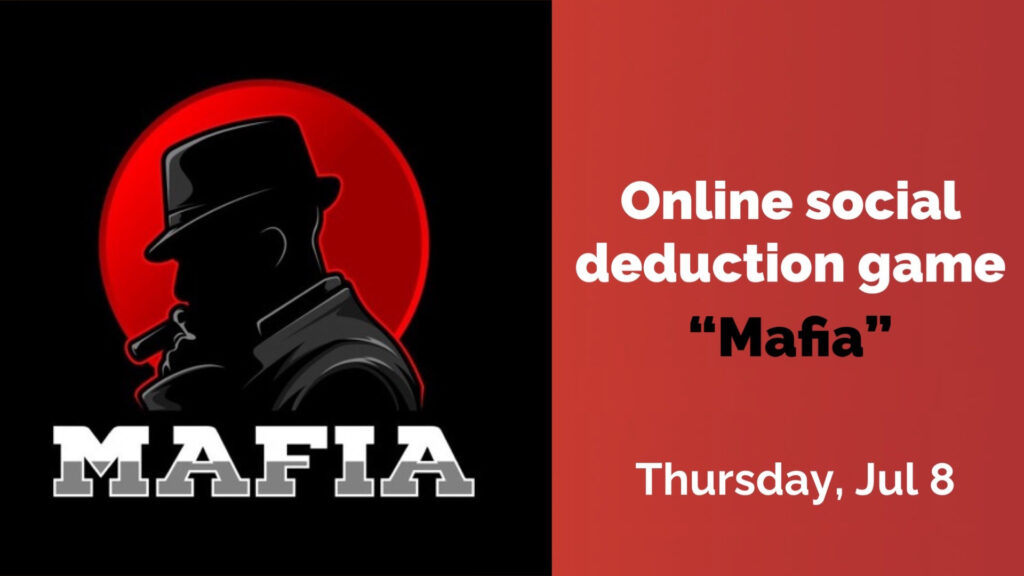 Play Mafia with the Residents
Thursday, July 8, 4:00 pm via Zoom
Another fun game hosted by your favorite GEC activities coordinator (aka Anastasia!) – "MAFIA" is a social murder mystery type game, but think more exciting… and bloody!

Sign up to play Mafia with your fellow residents Thursday, July 8 😈

The Premise: There is a mafia among us… He either kills all the civilians, the doctor, and the detective, or the civilians kill the mafia. Who will win? Sign up to find out.

See you soon. But wait… are you the mafia? 😲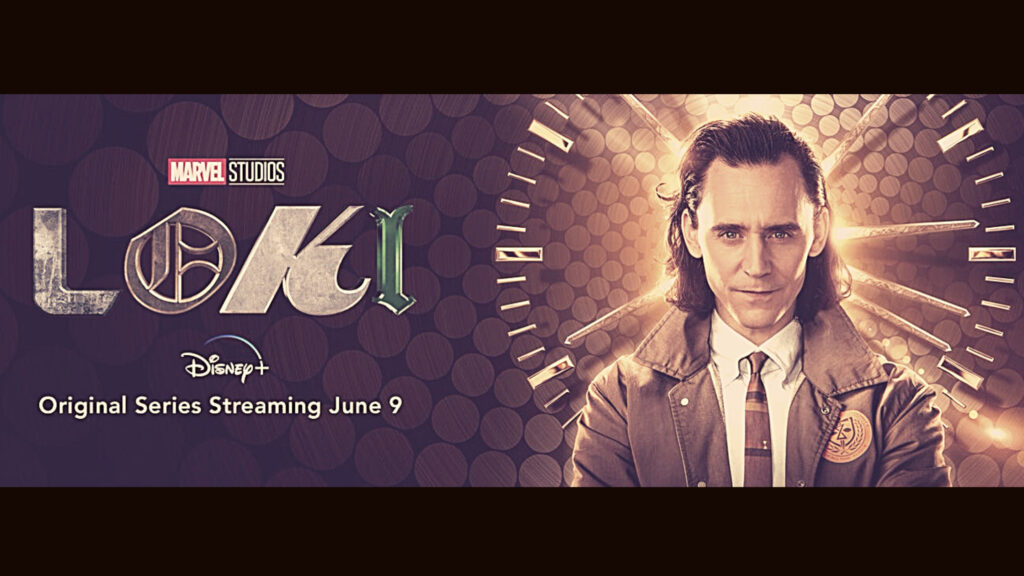 Watch This Weekend: LOKI on Disney+
GEC Reviews
By Hazal
Spoiler Alert ⚠️: There may be light spoilers below this point.

Disney+ has had heavy advertising for previous Marvel TV productions like WandaVision (I am sure you have seen the billboards on Granville Street back in January), and Falcon and the Winter Soldier. I did not surrender until Loki was released and still did not see the latter. After seeing The Mandalorian last year though, I had high expectations from the series because Disney+ proved to achieve the mini movie feel in a single episode of The Mandalorian. The first episode of Loki did not have that movie feel, it is structured just like traditional TV; it is binge-worthy.
Loki, aka the God of Mischief, has been known to be evil in the Marvel Cinematic Universe. In Infinity Wars, he was on the Avengers' side, yet he was killed by Thanos who wanted to get rid of half the population on earth. When the Avengers go back in time as a part of their plan to defeat Thanos, Loki escapes with the tesseract, creating a new timeline in the universe. So, Loki's story starts—He is caught and taken to the Time Variance Authority Headquarters where everything he ever cared about –the tesseract, the infinity stones—are useless. He has no god-powers or a way to escape his prosecution.
Loki is not the Avenger-era evil stepbrother we know, nor is he the Infinity Wars era nice guy in the series. During the first episode, he undergoes a big transformation. He experiences what some of us may or may not experience in a lifetime: An existential crisis. At the end of the ep, he makes a heathy decision that would not be expected of him. But did Loki only want us to think that? I guess we will find out!
Storyline: 5/5
Pace: Moderate
Overall Rating: 3/5
We would like to introduce our new review section. You can review all kinds of things you love (or hate!) here: Books, films, music, events, restaurants, and more. Simply send us an email with your 1 to 3 paragraph opinions at hello@gecliving.com and your review will be featured on our bi-weekly newsletter and social media.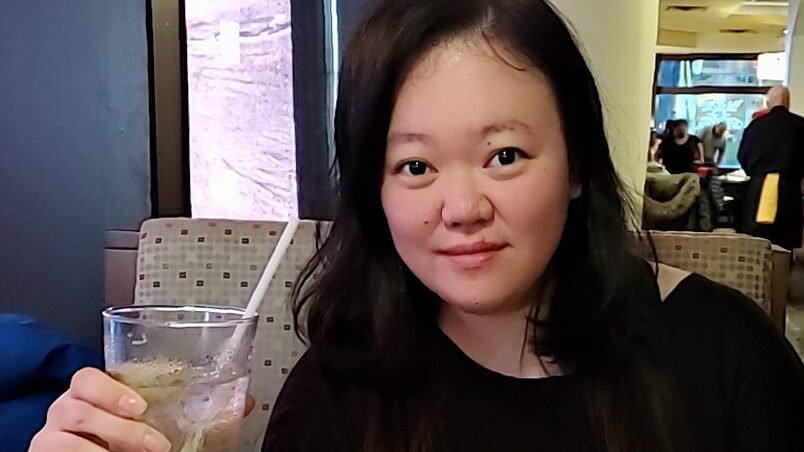 Kimberly – Property Manager at GEC
Meet the GEC Team
"My name is Kimberly Cheung. I joined GEC in May 2021. I am currently the Property Manager, managing all GEC properties in the greater Vancouver area. I have over 13 years of experience in managing commercial and residential properties."
Kimberly began her property management career in 2009 with a small management company in Richmond, BC, as a Strata Manager for 15 buildings portfolio. In 2014, she joined First Service Residential for an expanding commercial, retail, and residential properties portfolio mainly in Richmond, Downtown, UBC and SFU. As a property management professional since 2009, Kimberly is known for integrity, sincerity, and transparency.
In her free time, Kim enjoys travelling and dining out with friends and family. Unfortunately, during the pandemic, her favorite activities had to be put on hold for a while.
---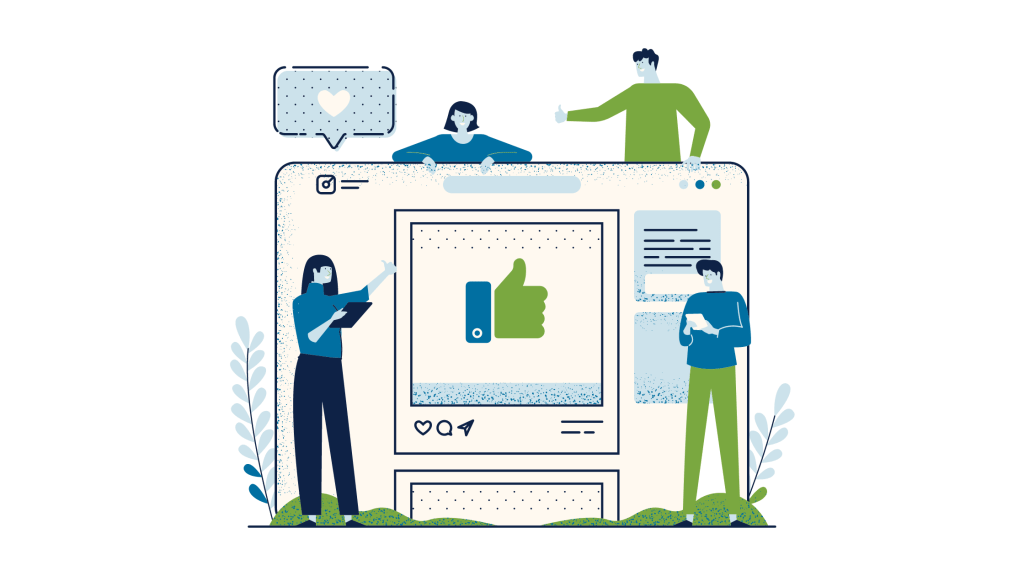 Review Us on Google!
Enter to win a $25 gift card
Enjoying your time at GEC? Leave us a written review and we'll randomly draw a resident every newsletter to win a $25 gift card to a business of your choice! (We'll send you a list to choose from.)
Your Google name must match the name in your reservation to qualify.
Previous Winner: Ethel
Leave us a review:
Viva | Burnaby Heights | Pearson | Marine Gateway
---
Cold Tea Meal Plans
Meal Kits delivery available for GEC Viva and Granville
Discount code for 10% off: GEC10
---
Community Events
Some events have been cancelled or put on hold. Travel outside of your health region is not advised.
Discover Canada Tours – Rocky Mountains
2-day train trip to Rocky Mountains! Special discounts for GEC residents.
Vancouver International Jazz Festival: June 25 – July 4
ONLINE & IN-PERSON Featuring pianist Sharon Minemoto, saxophonist Jerry Cook, drummer Jamie Lee, and more.
Object of Pride: A virtual Show & Tell: June 23
ONLINE – An opportunity to share a personal story about an object, photo, song, etc. that reflects your pride experience.
Wings and Wizards: June 8 – Sept 6
Interactive exhibit that lets you attend a school of witchcraft and wizardry and creates a magical adventure.
Main Street Station Farmers Market
EVERY SUNDAY – 30+ farmers and producers, food and coffee trucks on 1100 Station Street.
GEC COVID-19 Protocols: Read more on our website
---
Never Miss An Update—Follow Us On Social Media!