June 7, 2021 Newsletter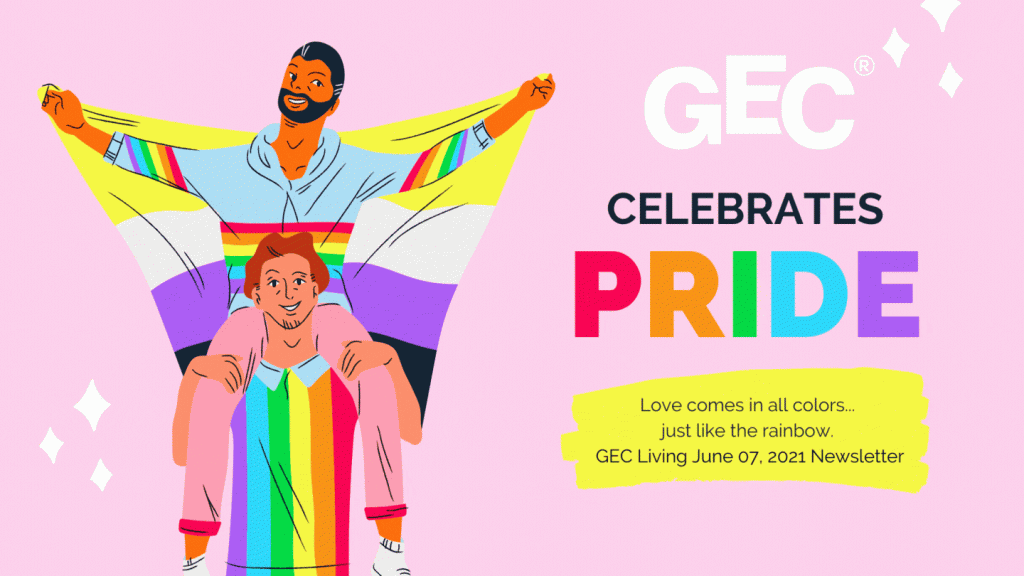 🌈 Happy Pride Month! 🌈
Surely, you have noticed June is Pride Month celebrated everywhere— What you may not know though that there is a remarkable history behind all the glitter and rainbows.
Pride month commemorates the 1969 Stonewall Uprising in New York. When a gay club in Greenwich Village was invaded by the police, protests and riots began throughout the city. Many in the club that night were trans people and gay men of color; this was at a time when dressing up as the opposite sex was a crime. Thanks to the brave activists, many regulations similar to that one were overturned.
While most Pride events are cancelled due to the pandemic, please remember that LGBTQIA+ allies can find opportunities to show support, listen, and be educated about Pride via online resources as well as personal connections.
Here is a list of resources in Canada for LGBTQIA+ members who may need information about topics like immigration, sexual health, gender, social justice education and more.
GEC Living stands in solidarity with the LQBTQIA+ community. ❤️💛💚💙💜
Love, Julie & Hazal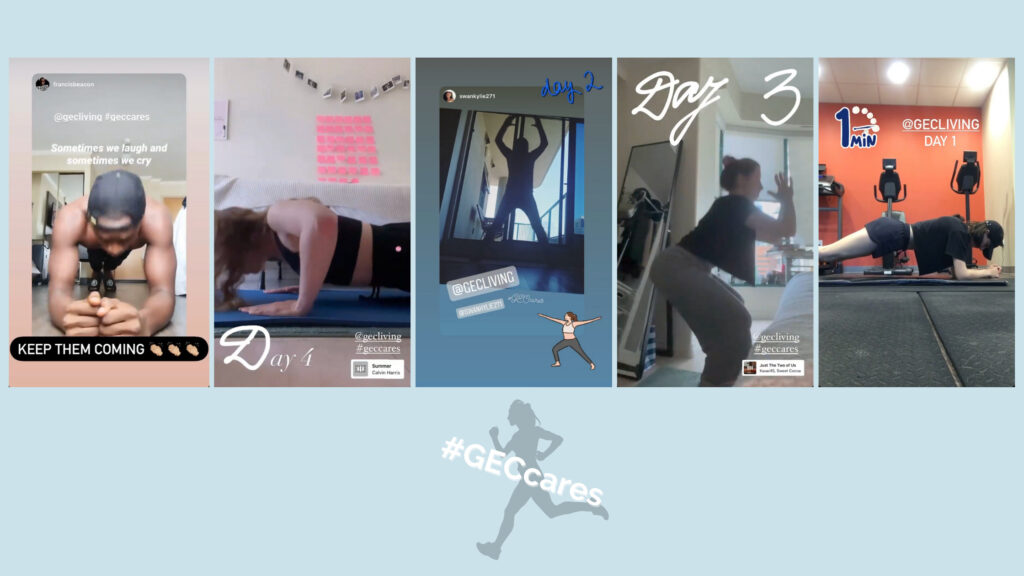 5-Day Fitness Challenge Recap
And, the WINNER is…
GEC hosted a 5-day Fitness Challenge supporting this year's theme for the Men's Health Month: #MoveforYourMentalHealth. Let us tell you— it was not easy! From tortuous minutes of planking to many (too many!) pushups, our residents completed the challenge easily and helped us spread the word about Men's Health.
Congratulations to Francis who won $100 Apple Gift Card from us! A heart felt thank you to all who participated in this fun challenge. 😊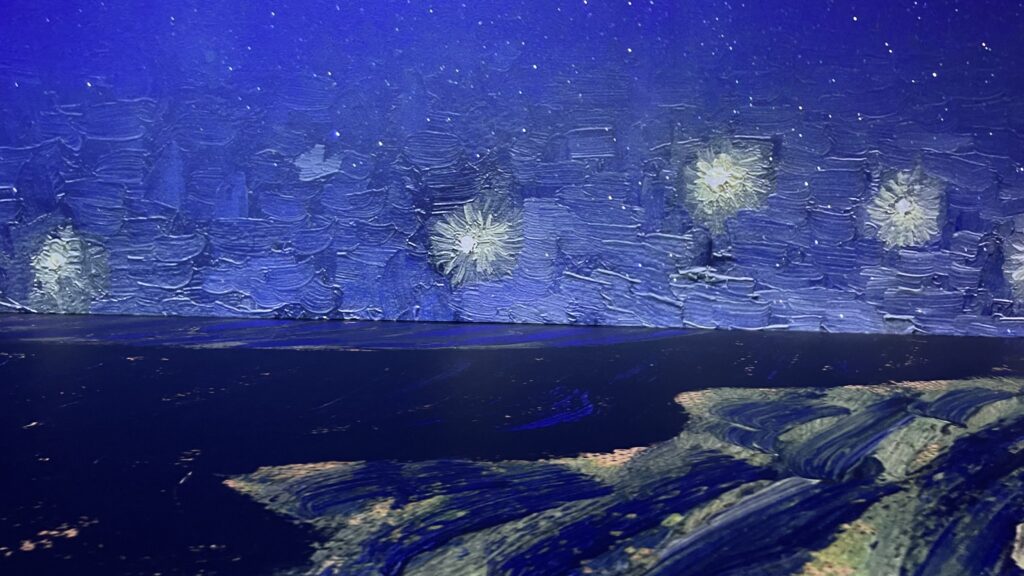 Imagine Van Gogh: The Immersive Exhibition
EVENT REVIEW
By Julie
Imagine Van Gogh is an exhibition that creates both visual and auditory experiences. The popular exhibition has been displayed all around the world and it has finally made its way to Vancouver! I went to this exhibition on a Friday afternoon, there were a lot of people visiting at the time. However, the organizers pay close attention to COVID-19 protocols.
When you first arrive, the reception will ask you to fill out a digital COVID-19 screening questionnaire, keep the face masks on all the time, and maintain recommended physical distancing. Don't worry if you have any health and safety concerns, the staff is well informed about the protocols.
There are two show rooms as a part of the exhibit. The first room reveals information about Van Gogh, describes his paintings, summarizes the exhibition. You will probably spend about 5 – 10 minutes here as it requires a lot of reading. (You can always skip this room if you don't like to read😊)
The exhibition itself is in the next room. In this massive room, Van Gogh's paintings are projected on multiple walls and on the floor; the visuals are accompanied by the classical music of great composers. Sometimes the paintings move and sometimes they stay still. With help from the classical music, messages that the paintings convey is delivered to the audiences vividly. I, myself as a part of the audience, was drawn into Van Gogh's master pieces deeply and I felt that I was actually living in Van Gogh's world. Because it is a large slideshow, you can see and feel the brush strokes of the master pieces clearly.
Although this exhibition is just a big projection of Van Gogh's painting with background music, I still recommend to check it out as it's a completely different experience from seeing the actual paintings in a gallery. It is an immersive experience with strong visuals and lively soundscape for the audiences.
Tips:
The weekend tickets are more expensive, I recommend purchasing the week-day tickets!
Afternoon hours are more crowded, I recommend visiting during the evening hours.
Each painting will be projected around 1 minute, and the duration of the slideshow is about 20 minutes. It plays as a loop.
The slideshow goes very fast, if you want to take a photo of a specific painting, I recommend having your camera ready all the time.
We would like to introduce our new review section. You can review all kinds of things you love (or hate!) here: Books, films, music, events, restaurants, and more. Simply send us an email with your 1 to 3 paragraph opinion at hello@gecliving.com and your review will be feature on our bi-weekly newsletter and social media.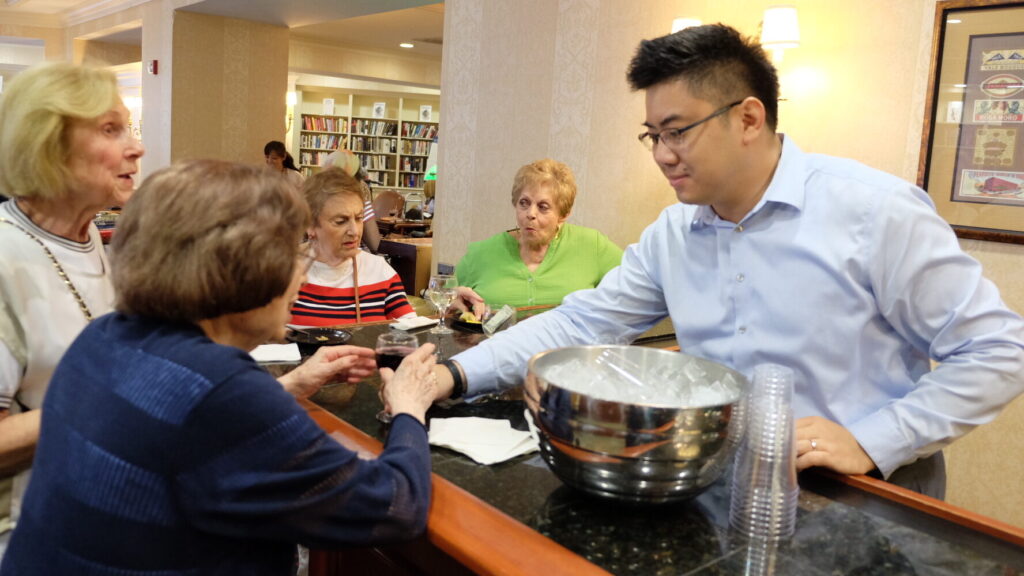 Meet the GEC Team
Ami – Operations Director at GEC
"My name is Ami Zhang, I am the Operations Director of GEC, since February this year. I am responsible for the overall operations of GEC, including property management and facilities.
I am from China. I studied Hospitality Management in the Alps in Switzerland, then obtained my MBA in marketing. I am a hospitality person; I love providing quality services and improving customer experience. Before coming to Vancouver, I spent most of my time in the city of Shanghai, worked in hotels, serviced apartments, senior living, etc. I am a big fan of NBA, and I enjoy outdoor activities like hiking, being on the beach, and outdoor BBQ. I also love animals!
I really like the atmosphere in the workplace of GEC, and I am very honored to be associated with GEC colleagues that are friendly and knowledgeable. I do hope that I can bring value to the operations and improve our services and customer satisfaction."
---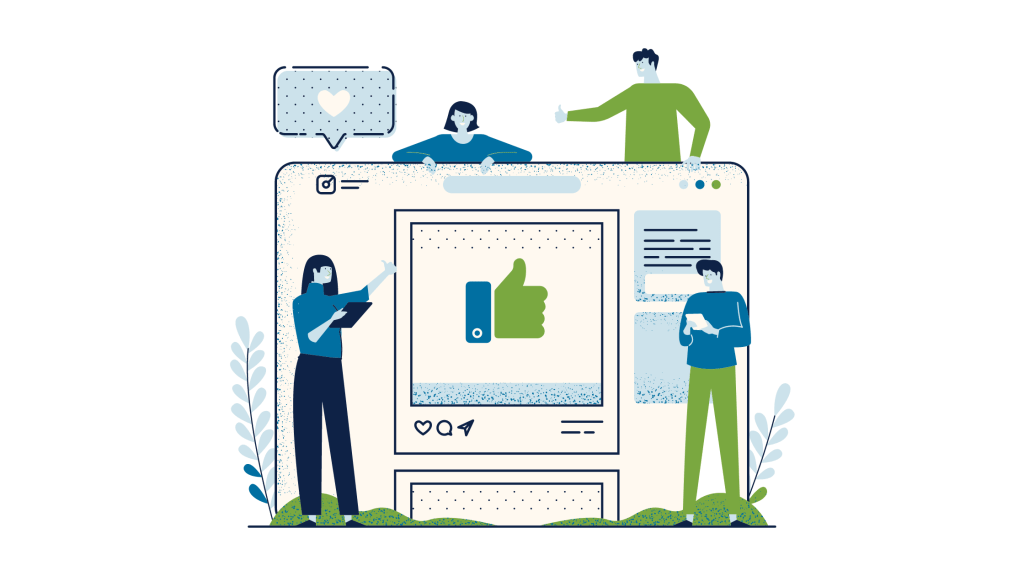 Review Us on Google!
Enter to win a $25 gift card
Enjoying your time at GEC? Leave us a written review and we'll randomly draw a resident every newsletter to win a $25 gift card to a business of your choice! (We'll send you a list to choose from.)
Your Google name must match the name in your reservation to qualify.
Leave us a review:
Viva | Burnaby Heights | Pearson | Marine Gateway
---
Cold Tea Meal Plans
Meal Kits delivery available for GEC Viva and Granville
Discount code for 10% off: GEC10
---
Community Events
Some events have been cancelled or put on hold. Travel outside of your health region is not advised.
The Really Gay History Tour: June 6 – November 28
A celebration of the unsung heroes who forever changed the social fabric of our city.
Raven Tales and Medicine Pouch Workshop: June 19
ONLINE – Indigenous stories based in Kwakwaka'wakw culture and medicine pouch workshop.
A Tasting of Indigenous Cultures: June 15
ONLINE – Learn how to make authentic bannock from home.
Street of India Exhibition by Andrea Saunier: May 20 – July 1
Photographic series named "Street of India" at Le Centre Culturel Francophone.
20th Annual UBC Farmers' Market: June 5 – November 27
Certified organic and farm-fresh produce, fruits, herbs, and free-range eggs from the UBC Farm.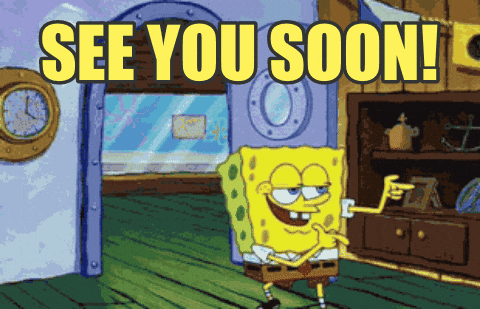 GEC COVID-19 Protocols: Read more on our website
---
Never Miss An Update—Follow Us On Social Media!