Creative and Healthy Pumpkin Recipes
GEC Resident and experienced cook Anastasia Keda shared her favorite original pumpkin recipes — do not worry, all of her recipes are creative and extremely healthy! You will have fun making them and eating them!
Pumpkin is rich in vitamins, especially the rare vitamin T that prevents the accumulation of fat cells in the body accelerates the process of digestion, and normalizes metabolism. I have delicious and healthy pumpkin recipes for you!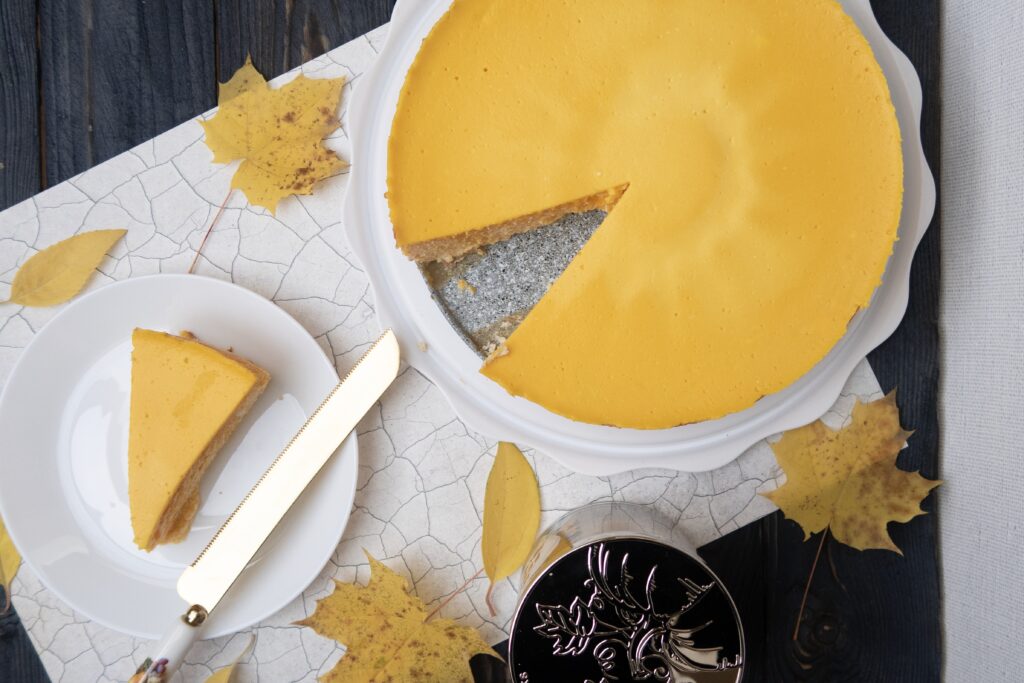 Pumpkin Casserole
Ingredients

Pumpkin mass:
Baked pumpkin – 500 g.
Sugar – 70 g.
Eggs – 2 pieces.
Corn starch – 18 g.
Cheese mixture:
Cottage cheese -500 g.
Sugar -100 g.
Eggs – 2 pcs.
Corn starch – 18g.
Vanilla filling:
Pumpkin puree -100 g.
Sour cream -100 gr.
Egg – 1 egg – 1 pastry.
Sugar powder – 40 g.
Preparation: ⠀ ⠀
Mix baked pumpkin, sugar, eggs, cornstarch in a bowl and beat with an immersion blender until smooth, then set aside.
Take the cottage cheese, sugar, eggs, and cornstarch and again beat with an immersion blender until smooth.
Then take a baking dish, I suggest you take a sliding dish so it's easier to take out the casserole and make sure you put baking paper on the bottom. Now, one spoonful at a time, starting with the cottage cheese mixture, put the filling in the center, and finish with the cottage cheese mixture.
Afterward, use a wooden stick to make incisions in our casserole to make patterns. Place in a preheated 335 C oven for 45-55 minutes.
While our casserole is baking, we prepare the vanilla filling, take the pumpkin puree, sour cream, egg, and powder, and beat until smooth.
When 50 minutes have passed, pour in the vanilla filling, and cook for another 15 minutes!
Leave the casserole in the oven until cool. This is a perfect healthy pumpkin recipe option for breakfast!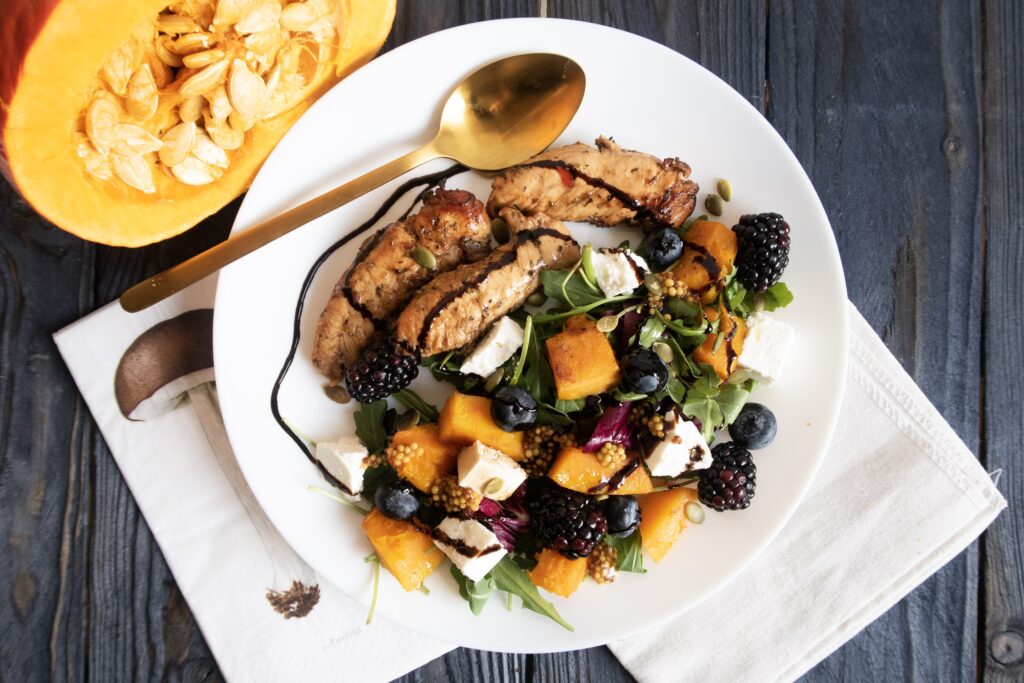 Pumpkin Berry Fall Salad
Ingredients

Fillet Ingredients:
Chicken fillet – 600g.
Soy sauce – 2 tbsp.
Chili sauce – 2 tbsp.
Herbs
Salad:
Salad mix
Pumpkin – 200 gr.
Blackberries – 5 pieces.
Blueberries – a handful.
Feta cheese -100g.
Pumpkin seeds
Dressing:
Grained mustard – 1 tbsp.
Balsamic vinegar – 1 tbsp.
Olive oil – 1 tbsp.
Salt, pepper

Preparation:
Marinate chicken fillets in a mixture of soy sauce, chili sauce, and herbs for 10-15 minutes.
Heat the oven to 400F. Then, grill the chicken breast for 2-3 minutes each on a grill pan, transfer to a baking dish, and place in the oven for 25-30 minutes until cooked through.
Cut the pumpkin into small pieces, salt, and pepper. Put into a baking dish and put into the oven with the chicken for 20-25 minutes until soft.
Mix the salad dressing in a bowl, pour the dressing over your salad, put the pumpkin, blackberries, blueberries, and slices of feta cheese on your plate, and sprinkle with pumpkin seeds. Place the chicken next to it and you're done!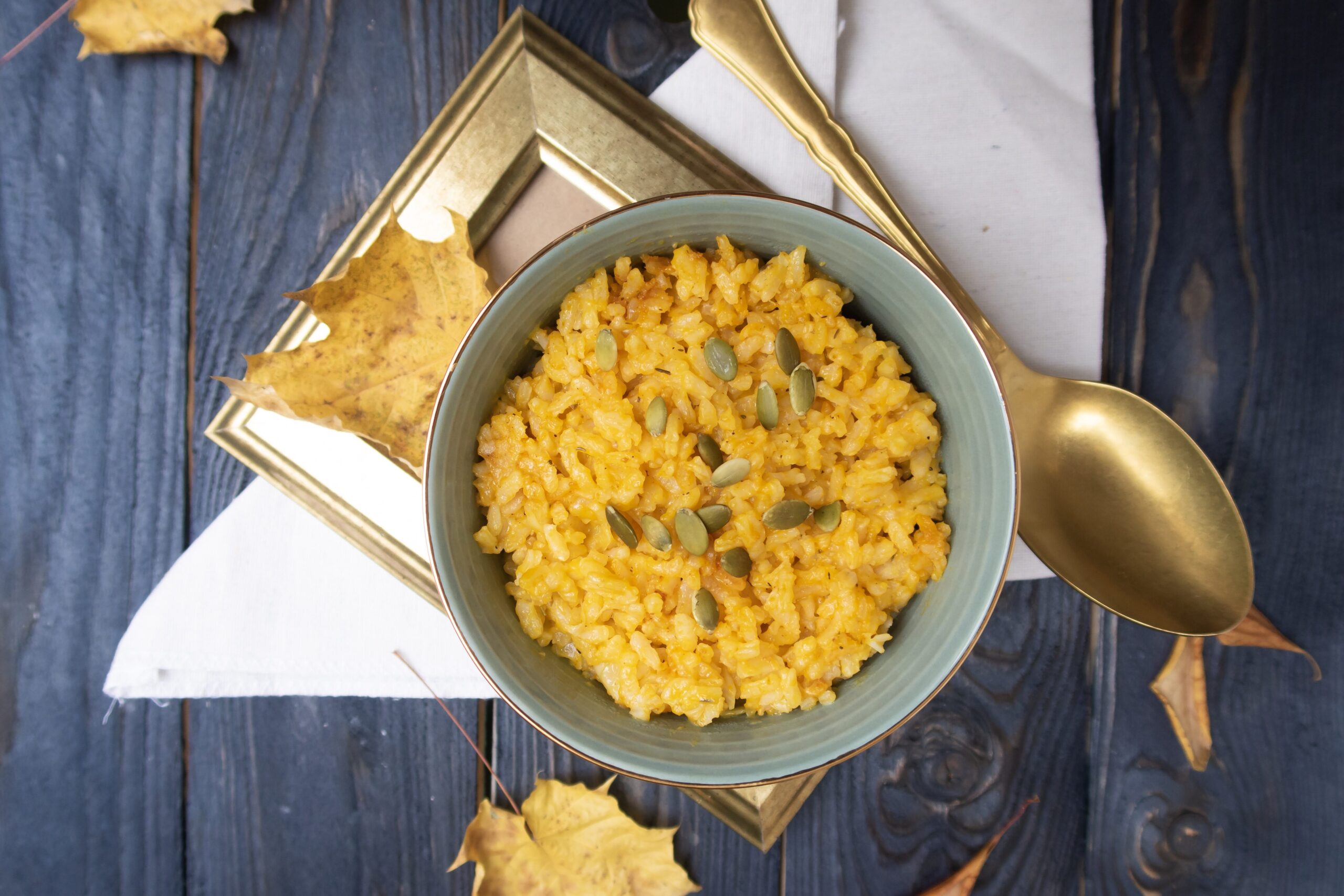 Pumpkin Risotto
Ingredients
Vegetable broth – 1.7 liters.
Grease butter – 2 tbsp.
Oil -2 tbsp.
Onions – 1 head.
Arborio Rice – 500 gr.
Dry wine – 1 cup.
Pumpkin puree – 450 gr.
Grated Parmesan cheese – 200 gr.
Thyme – 1 tsp.
Nutmeg – 1/2 tsp.
White pepper – 1/2 tsp.
Sea salt
Preparation:
Warm vegetable stock in a saucepan over medium to medium heat.
Heat the butter and olive oil in a wide saucepan until the butter melts.
Add the onion and cook over medium heat until translucent. This should take about 2 minutes.
Add the rice and stir until well coated.
Add the wine and stir constantly until it has been absorbed.
Once the wine is absorbed, add one ladleful of stock. Stir constantly until the stock is absorbed.
Continue adding broth while stirring constantly until the rice becomes soft and creamy. This will take about 20-25 minutes.
When the rice is creamy and you have used all or most of your stock add the pumpkin, cheese, thyme, nutmeg and white pepper. Cook on medium heat for an additional 2 minutes.
If you like this blog about healthy pumpkin recipes, you may also enjoy reading the following articles: